svedoliver - Fotolia
Q
Get started
Bring yourself up to speed with our introductory content.
How much will 3D XPoint technology affect flash storage?
Learn how Intel 3D XPoint fits in a flash storage technology space that has already seen single-level cell, multi-level cell, eMLC, triple-level cell and 3D NAND.
This Article Covers
RELATED TOPICS
Looking for something else?
TECHNOLOGIES

PRODUCTS
In the short term, the next big thing will be the continued growth of V-NAND. Like other 3D NAND technologies, V-NAND works by vertically stacking NAND cells on a die. When it comes to longer-term advancements, 3D XPoint technology will probably be most disruptive to the flash storage industry.

Download this free guide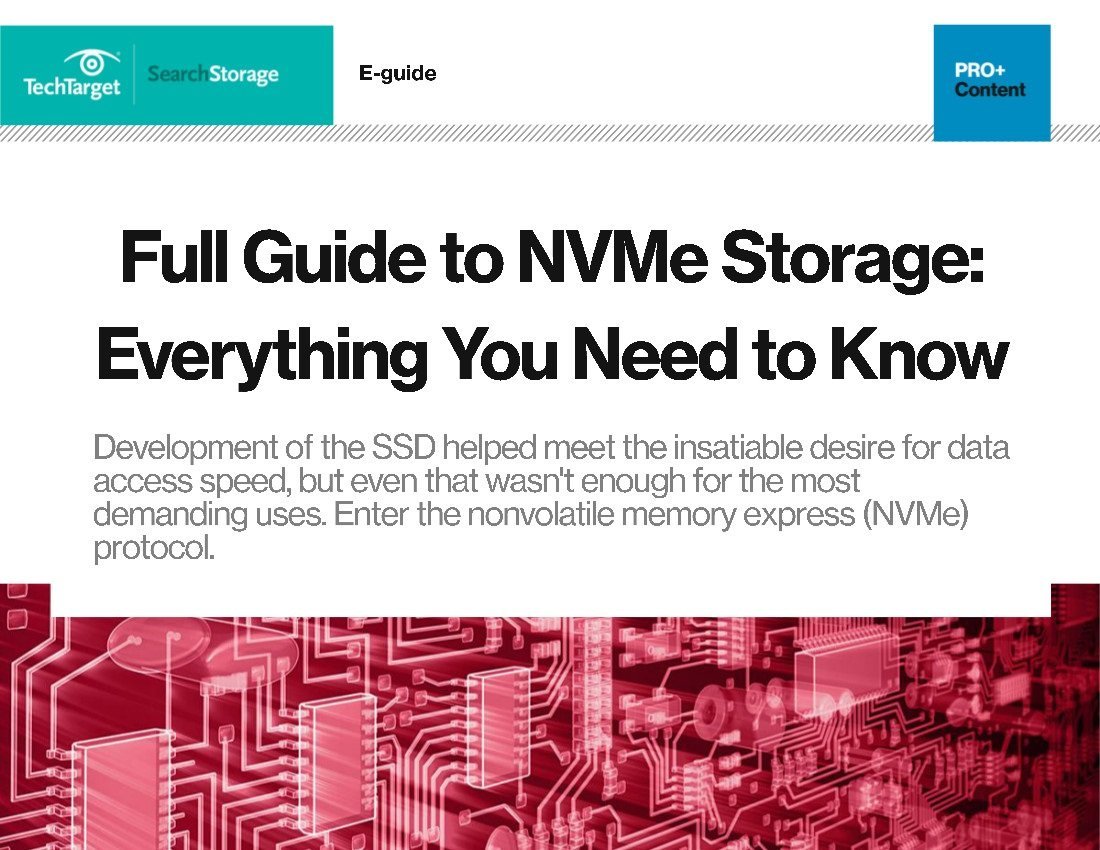 NVMe: The networked future for insatiable data access speeds
NVMe's no longer just a protocol for fast flash drive connections to a PC via the PCI Express bus. Discover the future of NVMe usage here, including exclusive details on how the M.2 SSD form factor is approaching server-ready capacity and speed.
By submitting your personal information, you agree that TechTarget and its partners may contact you regarding relevant content, products and special offers.
You also agree that your personal information may be transferred and processed in the United States, and that you have read and agree to the Terms of Use and the Privacy Policy.
The major problem with flash storage that leads to drives having relatively low capacities is that there is a limit to the degree to which a cell can be shrunk. This means there is also a limit to the number of cells that can be fit onto a die, without increasing the die's physical size. V-NAND and competing 3D NAND technologies get around this problem by stacking cells vertically, thereby increasing capacity exponentially. Samsung has managed to use V-NAND technology to create a 16 TB flash drive.
3D XPoint-based storage will operate on a completely different principle than the flash storage being used today.
Intel is developing 3D XPoint technology, and what makes it so notable is that 3D XPoint-based storage will operate on a completely different principle than the flash storage being used today.
NAND-based flash storage works by trapping electrons in transistors, and using the presence or absence of these electrons to represent a binary zero or one. 3D XPoint technology doesn't use transistors. Instead, the technology is based on a microscopic lattice of wires. Each point of intersection between two wires can store a piece of data.
The thing that makes 3D XPoint technology so exciting is that because it does not use transistors, the devices are not subject to the same limitations as transistor-based storage. It has been predicted that the absence of transistors will allow for greater storage capacities. Intel has also said the storage is approximately 1,000 times faster than some of the DRAM storage in use today.
Dig Deeper on Solid state storage technology
PRO+
Content
Find more PRO+ content and other member only offers, here.
A ghost image can be used to copy the contents of one server to another for backup, but the process of creating ghost images may not be as simple as ...continue reading
Backup and recovery trends, such as hybrid cloud data protection, are gaining popularity in the IT industry. Are these three major trends part of ...continue reading
Can disaster recover planning save an organization from a costly IT outage? The British Airways IT disaster of 2017 has many wondering how to prevent...continue reading
Have a question for an expert?
Please add a title for your question
Get answers from a TechTarget expert on whatever's puzzling you.