3D XPoint is memory storage technology developed by Micron Technology and Intel. Micron and Intel have said that this new technology will fill a gap in the storage market between DRAM and NAND flash, claiming it is up to 1,000 times faster than NAND flash. It is also said to have much greater endurance and storage density than NAND. While not as fast as DRAM, 3D XPoint has the advantage of being nonvolatile. Prices have not been set, but the companies have claimed price points will be higher than NAND flash and lower than DRAM.

Download this free guide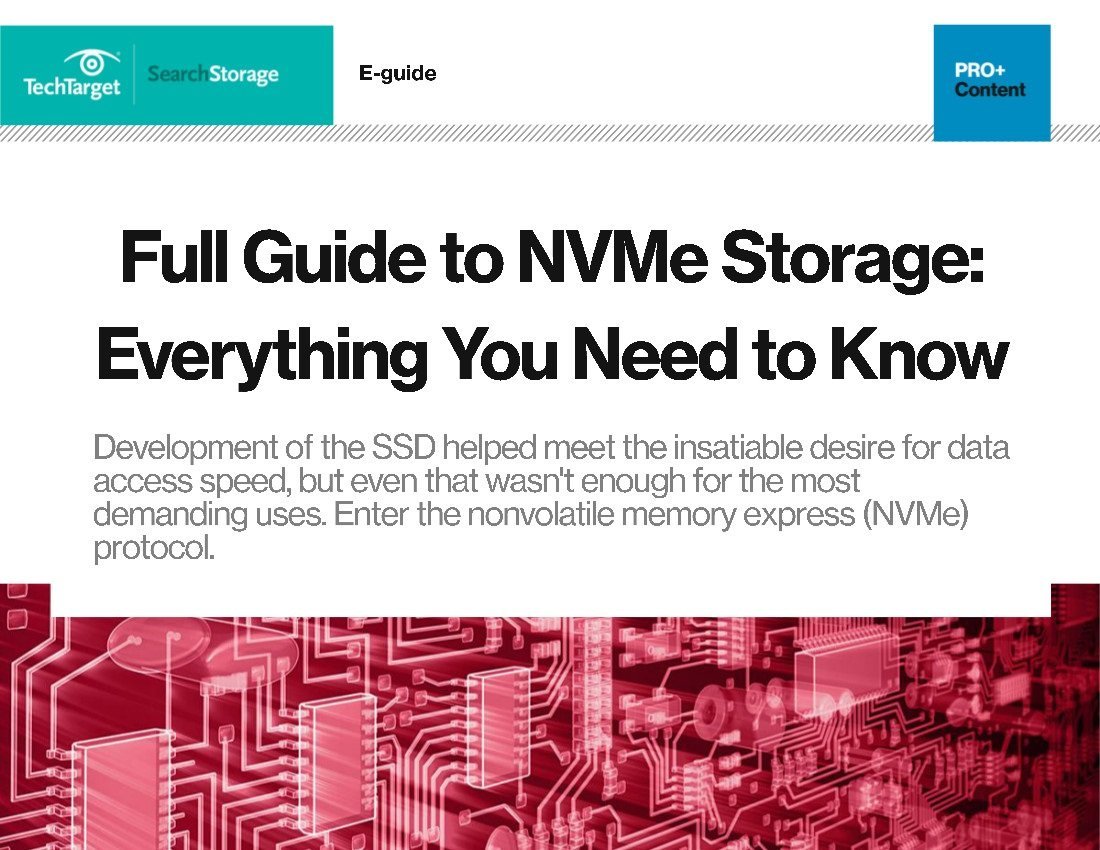 NVMe: The networked future for insatiable data access speeds
NVMe's no longer just a protocol for fast flash drive connections to a PC via the PCI Express bus. Discover the future of NVMe usage here, including exclusive details on how the M.2 SSD form factor is approaching server-ready capacity and speed.
By submitting your personal information, you agree that TechTarget and its partners may contact you regarding relevant content, products and special offers.
You also agree that your personal information may be transferred and processed in the United States, and that you have read and agree to the Terms of Use and the Privacy Policy.
Early roadmaps called for 3D Xpoint products to hit the market in 2016, but no dates have been set for product launches. While Micron and Intel developed 3D XPoint technology jointly, they will separately develop and sell products that make use of the technology.
One likely use for 3D XPoint will be as an additional layer of storage between flash and DRAM. It is already a relatively common practice to tier storage between hard disk drives (HDD) and flash. High-intensity data and applications that benefit more from high speeds are stored on the flash layer, while data and applications that are accessed less frequently are put on disks. XPoint can provide another layer above flash for data and applications that would benefit from even greater speeds.
Design
3D XPoint has a different architecture from current flash products. Its cross-point architecture positions selectors and memory cells at the intersection of perpendicular wires. Each cell is able to be accessed individually by a current sent through the top and bottom wires touching each cell. Cells can also be stacked in three dimensions to improve storage density.
Each cell stores a single bit of data. A cell is made to represent either a "1" or a "0" through a bulk property change in the material of the cell, which changes the resistance level of the cell. The cell can occupy either a high or low resistance state. Changing the resistance level of the cell will change whether the cell is read as a "1" or a "0."
Read and write operations occur by varying the amount of voltage sent to each selector. For write operations, a specific voltage is sent through the wires around a cell and selector. This activates the selector, and allows voltage through to the cell to initiate the bulk property change. For read operations, a different voltage is sent through to determine whether the cell is in a high or low resistance state.
The ability to write data at a bit level is an advantage over NAND. All the bits in a NAND flash block must be erased before data can be written. In theory, this capability will allow 3D XPoint to have higher performance and lower power consumption than NAND flash.
Continue Reading About 3D XPoint
Dig Deeper on Solid state storage technology
PRO+
Content
Find more PRO+ content and other member only offers, here.