JEDEC is an industry group that develops open standards for microelectronics. JEDEC, which originally stood for Joint Electron Devices Engineering Council, is now known as the JEDEC Solid State Technology Association.
The ABC's of SSD: Your Guide to Today's Top Solid State Definitions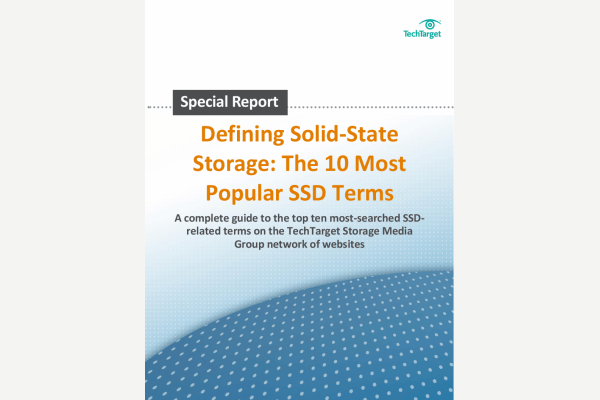 If you're not familiar with SSD storage, you may come across a lot of terms that are confusing at first glance. Clear up the confusion with this guide, which highlights today's most important definitions and acronyms that are essential to the world of solid-state storage.
By submitting your email address, you agree to receive emails regarding relevant topic offers from TechTarget and its partners. You can withdraw your consent at any time. Contact TechTarget at 275 Grove Street, Newton, MA.
You also agree that your personal information may be transferred and processed in the United States, and that you have read and agree to the Terms of Use and the Privacy Policy.

JEDEC is currently involved in developing endurance standards for consumer and enterprise flash memory. In 2010, JEDEC announced the publication of JESD218 Solid-State Drive (SSD) Requirements and Endurance Test Method, which defines the conditions of use and corresponding endurance verification requirements for each class of solid state drives defined in the standard. JESD218 also creates an SSD Endurance Rating that represents the number of terabytes written by a host to the SSD. Because workloads are expected to change as enterprise applications evolve, they are described in a separate, complementary standard: JESD219 Solid-State Drive Endurance Workloads.
Continue Reading About JEDEC
Dig Deeper on Solid state storage technology
PRO+
Content
Find more PRO+ content and other member only offers, here.