Definition
NAND flash wear-out
NAND flash wear-out is the erosion of a NAND flash memory cell due to the repeated program/erase process necessary to write new data to a chip.
All of the bits in a NAND flash block must be erased before the data is written, or programmed. The program/erase process eventually breaks down the oxide layer within the floating-gate transistors of the NAND flash.

Download this free guide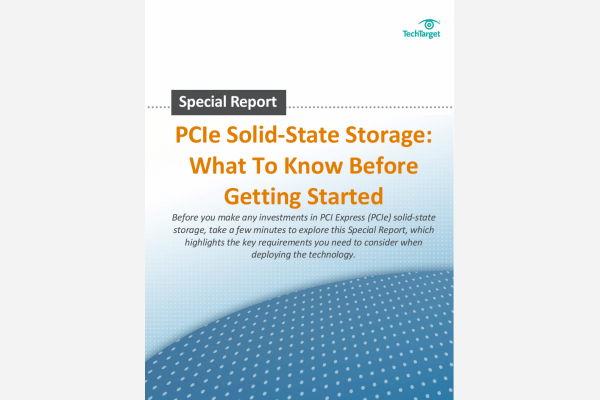 Free guide: Pump up performance with PCIe SSDs
Though solid-state storage is becoming universally recognized as the storage performance option, its performance and near-zero latency can expose weaknesses in the backbone of a storage infrastructure – the storage network. Avoiding the storage infrastructure altogether by placing solid-state directly in line with the server CPU via the PCI Express (PCIe) bus may be the best option. Read on to learn more.
By submitting your email address, you agree to receive emails regarding relevant topic offers from TechTarget and its partners. You can withdraw your consent at any time. Contact TechTarget at 275 Grove Street, Newton, MA.
You also agree that your personal information may be transferred and processed in the United States, and that you have read and agree to the Terms of Use and the Privacy Policy.

NAND flash uses a series of floating-gate transistors to store charge for an extended period of time. The oxide layer insulates the floating gate and traps the electrons, which control the switch-on voltage of the floating gate. The gradual deterioration of the oxide insulation can distort the manufacturer-set threshold value at which a zero or one is determined.
The NAND flash wear-out figures that the industry typically cites are 100,000 program/erase (P/E) cycles for single-level cell (SLC) flash, 30,000 P/E cycles for enterprise multilevel cell (eMLC) flash and 10,000 or fewer P/E cycles for multilevel cell (MLC) flash. Manufacturers have attempted to mitigate the wear-out factor through advancements in their product architectures, algorithms and controllers.
Continue Reading About NAND flash wear-out
PRO+
Content
Find more PRO+ content and other member only offers, here.