PCIe solid state storage definition
PCIe SSS is one of the four form factors for solid-state drives (SSDs).
PCIe Solid-State Storage: What To Know Before Getting Started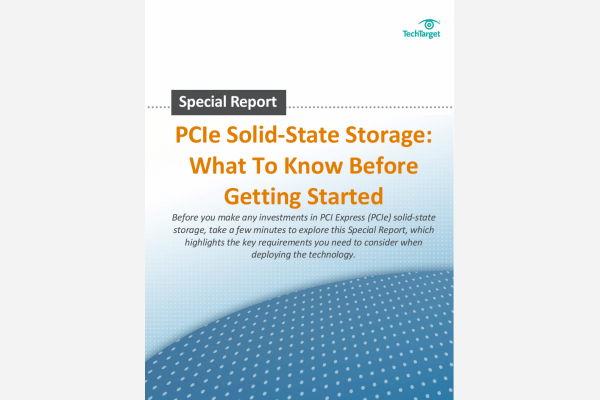 Before you make any investments in PCI Express (PCIe) solid-state storage, take a few minutes to explore this Special Report, which highlights the key requirements you need to consider when deploying the technology.
By submitting your email address, you agree to receive emails regarding relevant topic offers from TechTarget and its partners. You can withdraw your consent at any time. Contact TechTarget at 275 Grove Street, Newton, MA.
You also agree that your personal information may be transferred and processed in the United States, and that you have read and agree to the Terms of Use and the Privacy Policy.

PCIe, which stands for Peripheral Component Interconnect Express, is a high-speed expansion card format that connects a computer with its attached peripherals. PCIe has a point-to-point architecture. This means that each device connects to the host with its own serial link and does not have to share a bus.
In general, PCIe-based solid-state storage has better performance than server-based SATA, SAS or Fibre Channel (FC) solid-state drives because of the direct connections. This makes it a good choice for applications that have intensive input/output (I/O) requirements, such as online transaction processing and data warehousing.
Continue Reading About PCIe solid state storage
Dig Deeper on Solid state storage technology
PRO+
Content
Find more PRO+ content and other member only offers, here.