array-based SSD definition
An array-based SSD is a solid state drive manufactured in a form factor that can be installed in a typical storage array.
The ABC's of SSD: Your Guide to Today's Top Solid State Definitions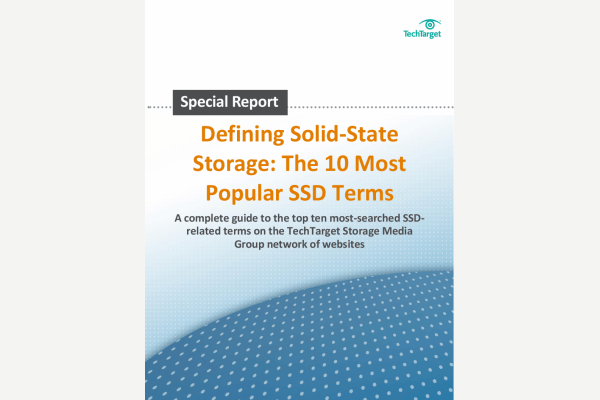 If you're not familiar with SSD storage, you may come across a lot of terms that are confusing at first glance. Clear up the confusion with this guide, which highlights today's most important definitions and acronyms that are essential to the world of solid-state storage.
By submitting your email address, you agree to receive emails regarding relevant topic offers from TechTarget and its partners. You can withdraw your consent at any time. Contact TechTarget at 275 Grove Street, Newton, MA.
You also agree that your personal information may be transferred and processed in the United States, and that you have read and agree to the Terms of Use and the Privacy Policy.

SSD arrays are designed to match up with typical hard-disk drive form factors – 3.5 inches, 2.5 inches, or 1.8 inches. 3.5 inch and 2.5 inch SSDs are the most common. These drives are typically NAND flash-based.
The most common interfaces for a solid state drive array in traditional hard-disk form factors are: Serial ATA (SATA) and Serial-Attached SCSI (SAS). The random access time of an SSD storage array is about .1 millisecond, compared to 5 to 10 milliseconds for a hard disk drive.
SSD arrays are used in applications that demand increased performance with high input/output (I/O). It is often the top tier in an automated storage tiering approach. Because automated storage tiering decides where to move data based primarily on input/output activity, it does not prioritize those choices based on the individual application. That allows an SSD array to provide improved data access in an easy-to-use package.
Continue Reading About array-based SSD
Dig Deeper on SSD array implementations
PRO+
Content
Find more PRO+ content and other member only offers, here.