Definition
enterprise MLC (eMLC)
Enterprise MLC (eMLC) is a type of multi-level cell (MLC) flash that has been enhanced to accommodate more write cycles than consumer-grade MLC flash offers.

Download this free guide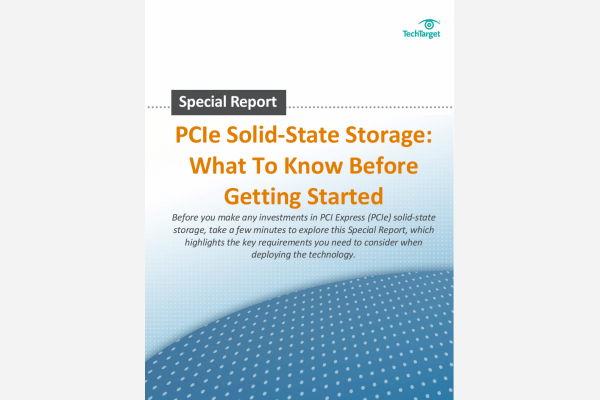 Is PCIe Solid-State Storage Right for You?
PCI Express (PCIe) SSD seems to be all the rage right now. Is that the best way to use solid-state or is it just a lot of hype? Access this objective, expert guide to help you decide. Weigh the pros and cons of PCIe SSD, learn how and where to deploy PCIe SSD in your environment, and compare the top vendors and products within this space.
By submitting your personal information, you agree that TechTarget and its partners may contact you regarding relevant content, products and special offers.
You also agree that your personal information may be transferred and processed in the United States, and that you have read and agree to the Terms of Use and the Privacy Policy.
Individual consumer MLC cells can only provide 3,000 to 10,000 write cycles, while enterprise MLC cells can handle 20,000 to 30,000 write cycles. In the enterprise, eMLC can serve as a compromise between inexpensive MLC flash and very expensive single-level cell (SLC) flash.
Typically, eMLC is 2-bit, while consumer MLC flash is 3 or 4-bit. In general, the more bits a flash cell has, the fewer write cycles it will have. Because eMLC flash media has more program-erase (P/E) cycles than consumer MLC, it has greater endurance and can tolerate the types of workloads that enterprise applications require.
A primary focus of eMLC vendors is to further improve write endurance and make MLC flash as reliable and long-lived as SLC flash. There are a number of techniques that vendors are using to improve write endurance, including:
Continue Reading About enterprise MLC (eMLC)
Dig Deeper on Solid state storage technology
PRO+
Content
Find more PRO+ content and other member only offers, here.