Definition
read-intensive SSD (read-intensive solid-state drive)
A read-intensive solid-state drive (SSD) is a storage or caching device intended for use with applications that write data infrequently.
A read-intensive SSD is able to use NAND flash memory with a lower endurance level than an SSD that targets write-intensive workloads, such as online transaction processing, high-performance computing, and data warehousing. High numbers of writes can cause NAND flash wear-out, and manufacturers of SSDs intended for write-intensive workloads generally use more reliable types of NAND, overprovision the flash and/or use special algorithms to improve endurance.

Download this free guide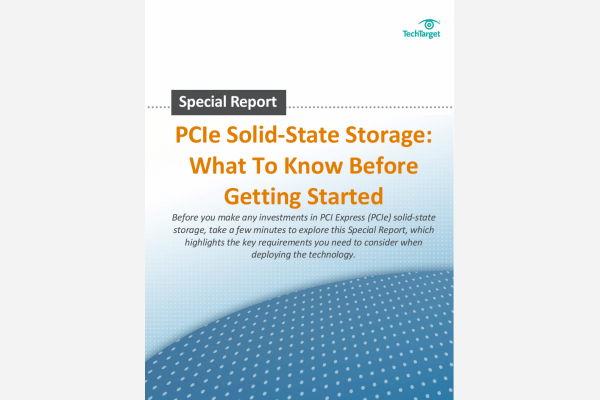 Is PCIe Solid-State Storage Right for You?
PCI Express (PCIe) SSD seems to be all the rage right now. Is that the best way to use solid-state or is it just a lot of hype? Access this objective, expert guide to help you decide. Weigh the pros and cons of PCIe SSD, learn how and where to deploy PCIe SSD in your environment, and compare the top vendors and products within this space.
By submitting your personal information, you agree that TechTarget and its partners may contact you regarding relevant content, products and special offers.
You also agree that your personal information may be transferred and processed in the United States, and that you have read and agree to the Terms of Use and the Privacy Policy.
Drive manufacturers sometimes offer SSDs of varying endurance levels and capacities earmarked for read-intensive, write-intensive or mixed workloads. For example, a read-intensive SSD might guarantee only one to three drive writes per day (DWPD) but offer higher capacity than a write-intensive SSD that supports up to 25 DWPD. The write-intensive SSD's usable capacity may be lower because a greater percentage of NAND flash is reserved to handle garbage collection and compensate for potential chip wear-out or failure.
Read-intensive SSDs tend to use the least expensive types of NAND flash memory, such as multilevel cell (MLC) and triple-level cell (TLC) flash. Write-intensive SSDs more commonly use enterprise MLC (eMLC) or single-level cell (SLC) flash, which offer higher endurance than MLC and TLC. Storage systems that use less expensive MLC for write-intensive workloads generally employ special algorithms and other techniques to manage endurance.
Continue Reading About read-intensive SSD (read-intensive solid-state drive)
Dig Deeper on Solid state storage technology
PRO+
Content
Find more PRO+ content and other member only offers, here.