Definition
server-based SSD
A server-based SSD is a solid state drive that may be manufactured in a PCI Express form factor. It could also be a SATA or SAS drive that plugs into the standard SATA/SAS interface, allowing it to be installed directly into a server.

Download this free guide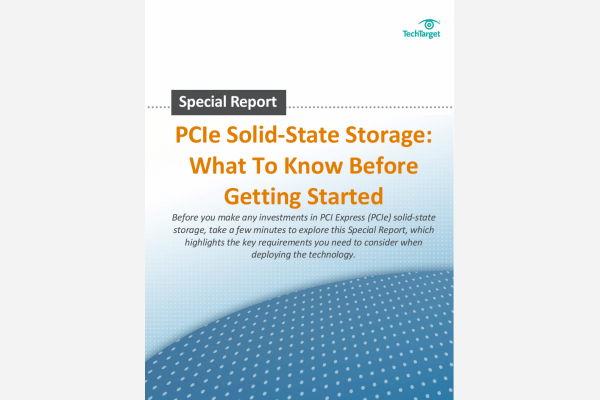 Free guide: Pump up performance with PCIe SSDs
Though solid-state storage is becoming universally recognized as the storage performance option, its performance and near-zero latency can expose weaknesses in the backbone of a storage infrastructure – the storage network. Avoiding the storage infrastructure altogether by placing solid-state directly in line with the server CPU via the PCI Express (PCIe) bus may be the best option. Read on to learn more.
By submitting your email address, you agree to receive emails regarding relevant topic offers from TechTarget and its partners. You can withdraw your consent at any time. Contact TechTarget at 275 Grove Street, Newton, MA.
You also agree that your personal information may be transferred and processed in the United States, and that you have read and agree to the Terms of Use and the Privacy Policy.

Server-based SSDs can function as a cache in the server or as persistent storage, allowing the SSD server to have essentially an extremely fast scratch disk for very frequently accessed data. Putting this high performance storage directly in the server reduces latency because the server doesn't have to access data on an external storage array. Because of this, server-based SSDs are high performance direct-attached storage. These SSD server drives are typically NAND flash-based.
Server-based SSDs are most often used for frequently accessed data in a database. Some examples of this are database indexes or whole databases. These best-use cases can reduce data access latency by as much as 90%. Both server vendors as well as some storage vendors offer server-based SSDs.
Continue Reading About server-based SSD
Dig Deeper on Solid state storage implementation
PRO+
Content
Find more PRO+ content and other member only offers, here.