Tier 0 (tier zero) is a level of storage that's faster, and perhaps more expensive, than any other level in the storage hierarchy.
While CPU speeds and hard disk drive capacities have been increasing exponentially, hard disk drive input/output per second (IOPS) have only improved slightly, putting constraints on application performance. One way IT administrators have compensated is to tier application data storage and use faster, more expensive hard disk drives for some things and slower, less expensive hard disk drives for others. This is known as hierarchical storage management (HSM). The goal of HSM is to increase service levels to critical applications and data sets, while reducing the overall cost of data storage.

Download this free guide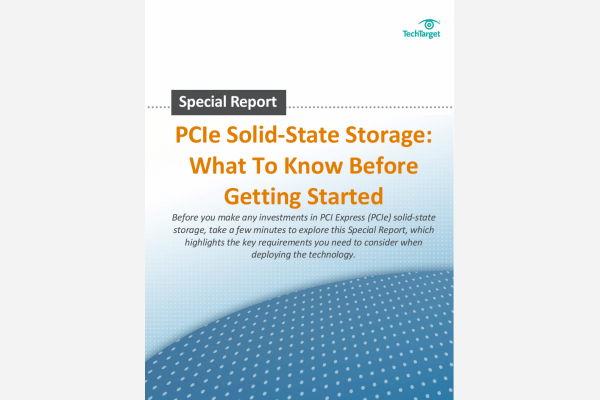 Is PCIe Solid-State Storage Right for You?
PCI Express (PCIe) SSD seems to be all the rage right now. Is that the best way to use solid-state or is it just a lot of hype? Access this objective, expert guide to help you decide. Weigh the pros and cons of PCIe SSD, learn how and where to deploy PCIe SSD in your environment, and compare the top vendors and products within this space.
By submitting your personal information, you agree that TechTarget and its partners may contact you regarding relevant content, products and special offers.
You also agree that your personal information may be transferred and processed in the United States, and that you have read and agree to the Terms of Use and the Privacy Policy.

In general, the lower the tier's number in a tiered storage hierarchy, the more expensive the storage media and the less time it takes to retrieve data. An enterprise that requires selected applications to be accessed very quickly may choose to use expensive single-level cell (SLC) solid state storage in its very highest tier, which some storage professionals are calling tier 0.
The addition of tier 0 storage to the storage hierarchy presents a paradigm shift. It represents a change from simply moving less active data to slower, less expensive storage to focusing on efforts to move more active data to faster, more expensive storage.
Here is an example of what an imaginary storage hierarchy that incorporates tier 0 might look like:
| | | |
| --- | --- | --- |
| Tier | Data | Storage media |
| 0 | Transactional data requiring extremely high performance | SLC solid-state storage |
| 1 | Mission-critical application data | Fibre Channel Storage Area Network (SAN) or SAS HDDs |
| 2 | Less-critical data that could be recovered after mission-critical application data | SATA disks arrays |
| 3 | Data that is seldom used | CD-R or tape |
| 4 | Archived email retained for compliance | Public cloud |
Continue Reading About tier 0
Dig Deeper on Solid state storage technology
PRO+
Content
Find more PRO+ content and other member only offers, here.