News
Stay informed about the latest enterprise technology news and product updates.
EMC adds solid-state drives to Symmetrix disk array
EMC qualifies 73 GB and 146 GB flash memory drives for its high-end disk arrays at about 30 times the cost per gigabyte as mechanical drives.
Looking for something else?
TECHNOLOGIES
EMC Corp. today said it will add solid-state drives to its high-end disk arrays as it expects to incorporate flash drives from STEC Inc. into its Symmetrix DMX-4 systems by the end of March.

Download this free guide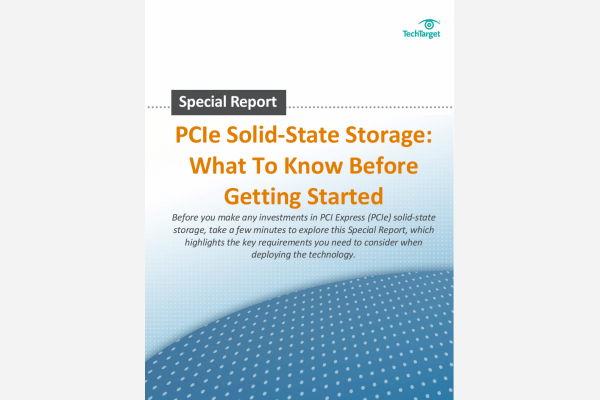 Weigh the pros and cons of PCIe-based SSD
So you've determined that flash storage is right for your organization, but with so many types and deployment models available, how do you choose amongst all the varieties? Start by considering PCIe-based SSD.

By submitting your personal information, you agree that TechTarget and its partners may contact you regarding relevant content, products and special offers.

You also agree that your personal information may be transferred and processed in the United States, and that you have read and agree to the Terms of Use and the Privacy Policy.

No major storage vendor is shipping flash-based solid-state drives in its systems. Solid-state drives have no mechanical components and have far faster read times and use less power than hard disk drives. They also cost around 30 times as much as hard drives and are designed for use on transactional applications that require the highest possible performance.

EMC has been qualifying the solid-state drives for a year. Bob Wambach, senior director of product marketing for Symmetrix, said EMC put the drives through reliability tests, including highly accelerated lifecycle tests (HALT) to simulate the temperature changes a drive would sustain in a production environment. Flash drives are still generally considered less reliable than mechanical drives, but Wambach said STEC has also included error-checking codes (ECC) to ensure integrity of data on the drives.

While EMC will start with 73 GB and 146 GB capacity solid-state drives on its highest performing arrays, the vendor does not rule out adding them to other arrays.

The drives EMC is using are known as single-cell flash memory in which each microscopic cell on the surface of the medium holds a piece of data. This is different than the multicell memory drives used in portable devices that are more volatile and do not include ECC.

"These drives have been put through the same qualification tests as any SATA or Fibre Channel drive to be qualified with our system," Wambach said. "The same types of reliability issues exist with other storage media, but Fibre Channel drives also have ECC protection built in."

EMC has also integrated the drives with management, provisioning and replication software used for Symmetrix systems so that putting data on the drives and migrating it off is no different than with a mechanical drive. TimeFinder and SRDF replication software and Symmetrix Management Console are among the software applications customers can use to manage the solid-state drives. LUN mapping and masking will use the same process on solid-state drives as mechanical ones.

One analyst said that integration is what differentiates EMC's approach from prior approaches to solid-state enterprise storage, such as caching appliances. "There have been two problems with solid-state storage -- it's expensive, often as high as tens of thousands of dollars per gigabyte -- and it has been extremely crusty when it comes to provisioning, requiring lots of 'handcrafting' to use," said Taneja Group founder Arun Taneja.

"The degree of usage and applicability for this product is totally dependent on how automated and easy it is to bring into production, and that's where I think we need to see how it functions in real-world environments," he said. EMC said the solid-state drives are in beta tests with several "household name" customers right now, but none are available for interviews.

The specs -- Get ready for sticker shock

According to STEC, the drives EMC is using can sustain up to 2 million write/erase cycles per cell. Wambach declined to confirm if EMC was quoting the same specifications. "We're not going to quote a number ourselves because it may change over time and other vendors may have different numbers," he said.

STEC's drives claim up to 52,000 sustained random read IOPS; 17,000 sustained random write IOPS; 250 MBps sustained, sequential reads; and 200 MBps sustained, sequential writes. They also have a price tag that EMC won't say out loud, preferring to describe it as "30 times the cost per gigabyte of Fibre Channel."

Despite that hurdle to adoption, EMC said it expects to sell the drives to financial institutions looking to boost performance on transactional applications. Higher volume will mean a price drop eventually, Wambach said.

Taneja also predicted that "Tier 0" – a higher performance tier than the current Tier 1 systems provide -- will take off this year. "It's going to be a necessity for every high-end storage vendor with a Tier 1 system, whether they do it in partnership with other companies or develop it on their own," he said.

EMC also unveiled "virtual provisioning" (its term for thin provisioning) and support for 1 TB SATA drives, two features it previously disclosed were on its Symmetrix roadmap. The thin provisioning feature will also support SRDF and TimeFinder, including "thin-to-thin" replication. EMC trails Hitachi Data Systems (HDS) in adding the feature to a Tier 1 array. EMC claimed it was waiting to release thin provisioning until it could also support it with software products.

SRDF has also been updated with a new feature called SRDF/Cascaded, which combines both synchronous and asynchronous mirroring to mirror data from a primary data center to two remote sites. This is similar to a feature IBM added late last year with the latest version of its DS8000 arrays.
Dig Deeper on SSD array implementations
PRO+
Content
Find more PRO+ content and other member only offers, here.