News
Stay informed about the latest enterprise technology news and product updates.
BitMicro unveils 1 TB solid-state flash disk drive
SCSI flash disk drive squeezes 1.6 TB into 3.5-inch form factor; HP retools MSA disk arrays; Carbonite spruces up data backup SaaS.
Looking for something else?
TECHNOLOGIES
Compilation of storage news:
BitMicro unveils 1 TB solid state disk
BitMicro unveiled an Ultra320 SCSI flash drive, the E-Disk Altima E3S320 solid-state flash disk. The drive will offer up to 1.6 TB of storage capacity in a standard 3.5-inch form factor. The E-Disk, which is comprised of single-level cell (SLC) NAND flash, claims sustained data transfer rates of up to 230 MBps -- peaking at 320 MBps in burst mode. The drive also comes with BitMicro wear leveling and proprietary BCH Error Correction Codes. Sampling for the disk is expected to begin in the second quarter, with volume shipments expected by the third quarter.

Download this free guide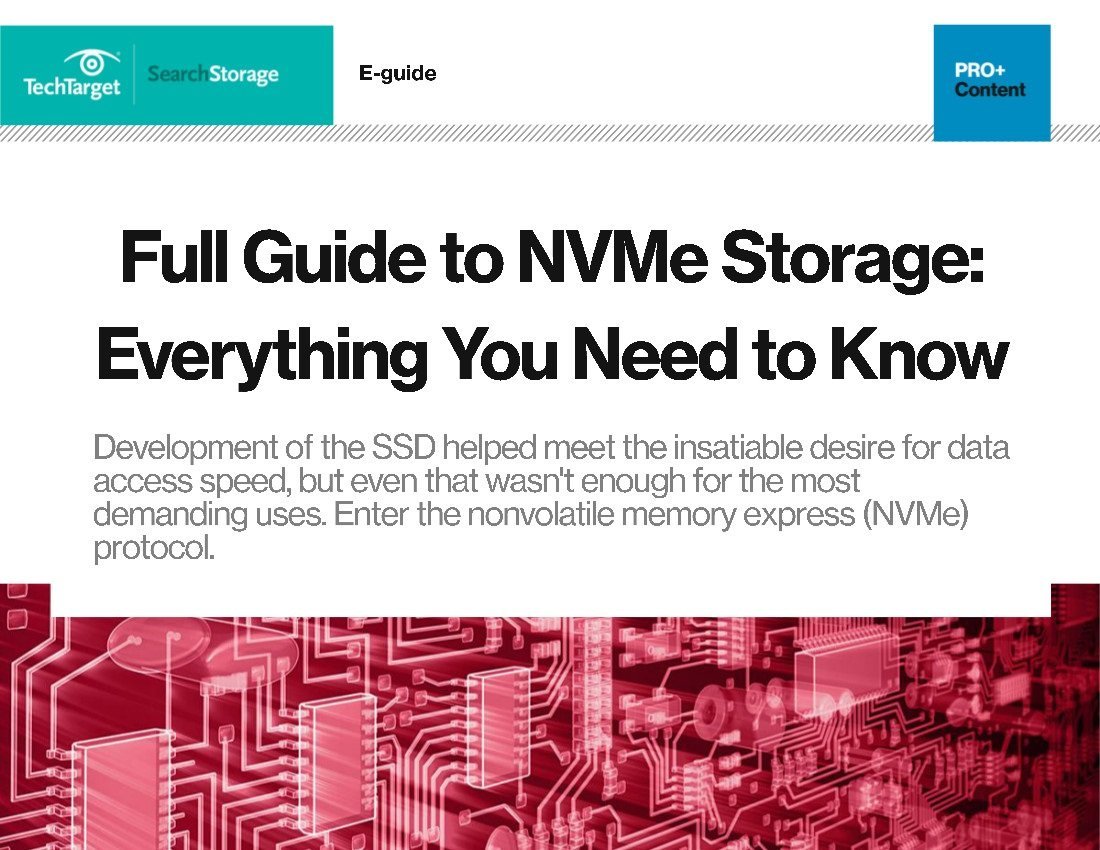 NVMe: The networked future for insatiable data access speeds
NVMe's no longer just a protocol for fast flash drive connections to a PC via the PCI Express bus. Discover the future of NVMe usage here, including exclusive details on how the M.2 SSD form factor is approaching server-ready capacity and speed.

By submitting your personal information, you agree that TechTarget and its partners may contact you regarding relevant content, products and special offers.

You also agree that your personal information may be transferred and processed in the United States, and that you have read and agree to the Terms of Use and the Privacy Policy.

HP updates MSA disk arrays
Hewlett-Packard retooled its low-end product line this week with the announcement of the HP StorageWorks 2000 Modular Smart Array (MSA2000) product line. The arrays support up to 36 TB of either Fibre Channel (MSA2000fc) or iSCSI (MSA2000i), up to 48 SAS or SATA disk drives and have the option of adding a dual controller. HP is also offering optional management software for snap and clone capabilities with this release. List price starts at $4,999 with general availability in March.

Carbonite spruces up data backup SaaS
Carbonite rolled out Carbonite Release 3.5, an update to its Carbonite Online PCBackup service. The new version includes a file migration wizard, file versioning up to 90 days, backup scheduling and incremental backup. Release 3.5 also includes advanced file type selection and a private encryption key. The wizard will allow users to restore files from a Windows XP file structure to a Vista PC.

Emulex launches 8 Gbps HBAs
Emulex Corp. said its LightPulse LPe12000 family of 8 Gbps Fibre Channel HBAs are available through channel partners. None of Emulex's OEM partners have announced availability of the new HBAs, but the company said it has 13 design wins.

Infortrend puts SAS RAID on the desktop
Infortrend added two new systems to its desktop Cube series: the EonStor A08S-C2131 and the A08S-C2132 SAS-to-SATA II desktop RAID arrays. The eight-bay arrays support SATA II hard drives and up to 8 TB capacity in an enclosure roughly the size of a standard PC tower. Infortrend is also packaging in SANWatch management software.

Dice rolls with SteelEye
Dice Corp., a physical security company, is using SteelEye's LifeKeeper for Linux server failover. Dice also used SteelEye data replication to migrate its servers from Unix to Linux.

FalconStor touts European media customers
FalconStor announced that German media company Spiegel, owner of Der Spiegel magazine and Belgian TV and radio station Radio Télévision Belge de la Communauté Française (RTBF) has deployed the FalconStor Network Storage Server (NSS) within FalconStor's IPStor Enterprise Edition software. Spiegel is using the storage virtualization software to provide central administration and about 35 TB of backup for its Lotus Notes server cluster and other file servers. RTBF added the software as part of a consolidation of seven remote sites into two, with an appliance at each site acting as an high-availability cluster for failover.

DataCore reshuffles starter pack
DataCore released a new Virtual Infrastructure Foundation (VIF) package that will be sold as Virtual Infrastructure Foundation Plus (VIF+). The package includes thin provisioning, iSCSI support, SANmotion data migration technology and performance caching. VIF+ adds support for thin provisioning storage pools up to 4 TB, includes snapshot and supports Fibre Channel. The new package sells for around $2,750.

SGI, BakBone ink OEM deal
SGI and BakBone forged a global OEM deal this week. Under the terms of the deal, SGI will include BakBone's replication software, NetVault Replicator, with each SGI InfiniteStorage Nexis platform shipped. SGI EMEA Professional Services will also resell BakBone's NetVault Backup.

HP data storage user groups band together
HP user groups Encompass, HP Interex EMEA and ITUG jointly announced their intent to consolidate into one worldwide group this week. The combined organization will feature new membership offerings and will operate under a new name that has not been determined yet. The merger is contingent upon voting of the memberships of the current organizations, which will take place this spring. The new organization plans to automatically honor any existing memberships.

Akorri announces new customers
Akorri said its BalancePoint server and SRM software is catching on. On the anniversary of its first year on the market, Akorri listed several new customer wins, including AutoTrader.com, Colorado Housing, Florida Fruit and Vegetable Association (FFVA), and Ropes and Gray.

DNF wins GSA contract extension
Dynamic Network Factory said it has been awarded an extension through 2012 on its General Services Administration (GSA) schedule contract, number GS-35F-0153N. Vendors must be on the list for federal agencies to continue to procure its equipment.

ONStor China expansion drives growth
ONStor said 2007 marked its third straight year of 100% revenue growth, with strong fourth-quarter sales fueled by expansion into China. The private company claimed 25 new customers globally in the quarter.

Sanrad reports record sales
Sanrad reported that it experienced double-digit sales growth for its intelligent network switches in the fourth quarter of 2007. Sanrad points to server consolidation and virtualization as drivers for sales of its switches.

Teneros, Caringo receive funding
Teneros closed a $40 million late-stage funding round led by Advanced Equities. The latest round brings Teneros' total capital to $84.5 million. Meanwhile, Caringo announced that Vodafone Ventures has made a private equity investment in Caringo. The amount of the investment was not disclosed.
Dig Deeper on SSD array implementations
PRO+
Content
Find more PRO+ content and other member only offers, here.