News
Stay informed about the latest enterprise technology news and product updates.
Nimbus adds solid state to 10 GigE iSCSI NAS systems
Nimbus Data expands 10 Gigabit Ethernet capability and adds solid-state drives to IP storage systems that support iSCSI, NFS and CIFS.
Looking for something else?
TECHNOLOGIES
IP storage systems maker Nimbus Data Systems Inc. is beefing up its unified storage systems, bumping up its 10 Gigabit Ethernet (GigE) capabilities and adding solid-state disks (SSD).

Download this free guide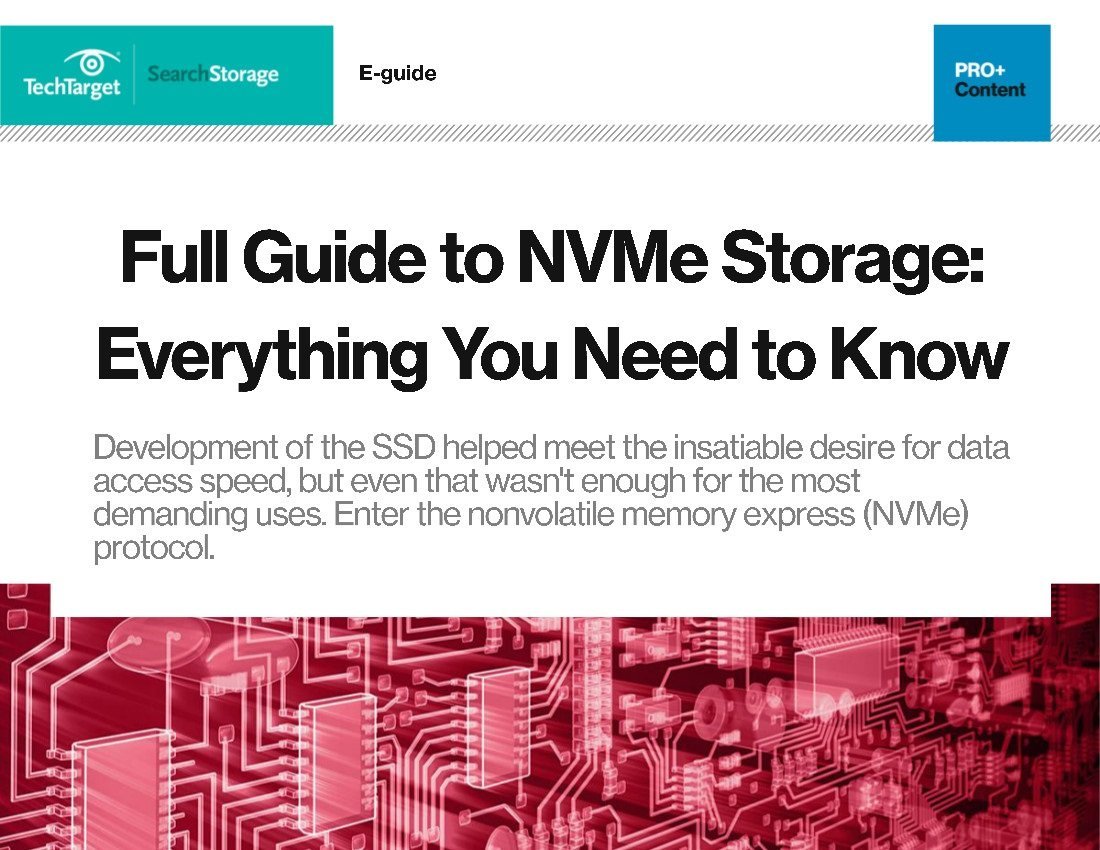 NVMe: The networked future for insatiable data access speeds
NVMe's no longer just a protocol for fast flash drive connections to a PC via the PCI Express bus. Discover the future of NVMe usage here, including exclusive details on how the M.2 SSD form factor is approaching server-ready capacity and speed.

By submitting your personal information, you agree that TechTarget and its partners may contact you regarding relevant content, products and special offers.

You also agree that your personal information may be transferred and processed in the United States, and that you have read and agree to the Terms of Use and the Privacy Policy.

Nimbus today launched two Breeze Hybrid block and file systems that support iSCSI, CIFS and NFS protocols, and SAS, SATA and solid-state drives. The Breeze VH630 is designed for server virtualization and the Breeze MH860 for large digital media files.

Each system has dual 10 GigE ports, four GigE ports, four expansion SAS ports and Nimbus' Halo operating system. The VH630 starts with 22 drives and expands to 192 drives for 192 TB capacity, with 8 GB of write-through cache and 32 GB of solid-state storage built in. The MH860 starts with 34 drives and has 16 GB of write-through cache and 64 GB of solid-state storage.

The systems are a step up from Nimbus' previous Breeze offerings, which were lower-end systems that had either one 10 GigE or four GigE ports with one SAS expansion port. Each maxed out at 80 TB. The new systems also cost three to four times as much as previous Nimbus systems. The VH630 starts at $75,000 for 22 TB and the MH860 starts at $120,000 for 34 TB.

"We said, 'What does it take to bring IP storage into the midrange and data center?'" said Tom Isakovich, Nimbus CEO. "There are three things: multiprotocol support, tier flexibility and IP convergence of 10 GigE and Gigabit Ethernet."

While Isakovich positions Nimbus' new systems as competitors to the Dell-EqualLogic and LeftHand iSCSI-only SANs that don't support NAS, Nimbus is also up against multiprotocol systems from NetApp Inc., BlueArc Corp., Reldata Inc. and agami Systems that do support both NAS and iSCSI. Nimbus is the first of these unified systems out with solid state, although industry observers expect others to follow soon.

Isakovich said he expects customers to use SSD for I/O-intensive applications, such as virtual machines, databases and log journals for Oracle, Microsoft Exchange and SQL Server.

Big iSCSI systems in uncharted waters

Analyst John Webster of Illuminata Inc. said the systems mark a step up for Nimbus and puts it in a higher level of competition. "The plan is to go up against the big boys, for better or worse," he said. "They're going to be going head-to-head with EqualLogic-Dell, so I guess you have to bring some stuff to the table."

While there is clearly a market for IP boxes that cater to virtualized server environments, Webster said Nimbus' MH860 is in uncharted waters. "Big iSCSI boxes are new and different," he said. "That market opportunity hasn't really been explored. A lot of iSCSI deployments have been small, VMware-oriented or extensions of an existing SAN. It's hard to gauge what user acceptance is going to be for big iSCSI boxes."

VMware drives iSCSI adoption

At Loro Piana, a maker of luxury clothing lines, IT manager Aaron Martin said he started looking for an iSCSI SAN after implementing VMware ESX Server. He chose Nimbus over EqualLogic and LeftHand because of its 10 GigE capability and better CIFS support. "The reason we moved to iSCSI storage is I got into VMware," Martin said. "Nimbus was cutting-edge on some of the technology plays, and I knew that's where we needed to be, especially on the 10 GigE side. With 10 GigE, you don't have a bandwidth problem. The bonus was they did CIFS. I didn't have to run a standard file print server anymore, I could use my storage system." Loro Piana has been running a total of 6 TB of Nimbus storage at its Connecticut data center and New York office for the past year. Martin said he uses VMotion to move virtual machines between ESX hosts, and he's planning to implement VMware virtual desktops this summer. Which is why he intendds to add solid-state capability this year, either as an upgrade to his current systems or in a new Breeze configuration.

"I will need very fast access, when I have 40 virtual desktops hammering my system," he said. "With 10 GigE on the backplane and solid-state hard drives, the system should really fly."
Dig Deeper on SSD array implementations
PRO+
Content
Find more PRO+ content and other member only offers, here.