News
Stay informed about the latest enterprise technology news and product updates.
Sun flashes its plans for solid-state disk drives
Sun says it will support solid-state flash disk drives in its server and non-OEM storage product lines in the second half of this year.
Looking for something else?
TECHNOLOGIES
BOSTON -- Sun Microsystems Inc. today joined EMC, Hitachi Data Systems (HDS) and others in pledging support for solid-state disk drives when they ship from manufacturers later this year.

Download this free guide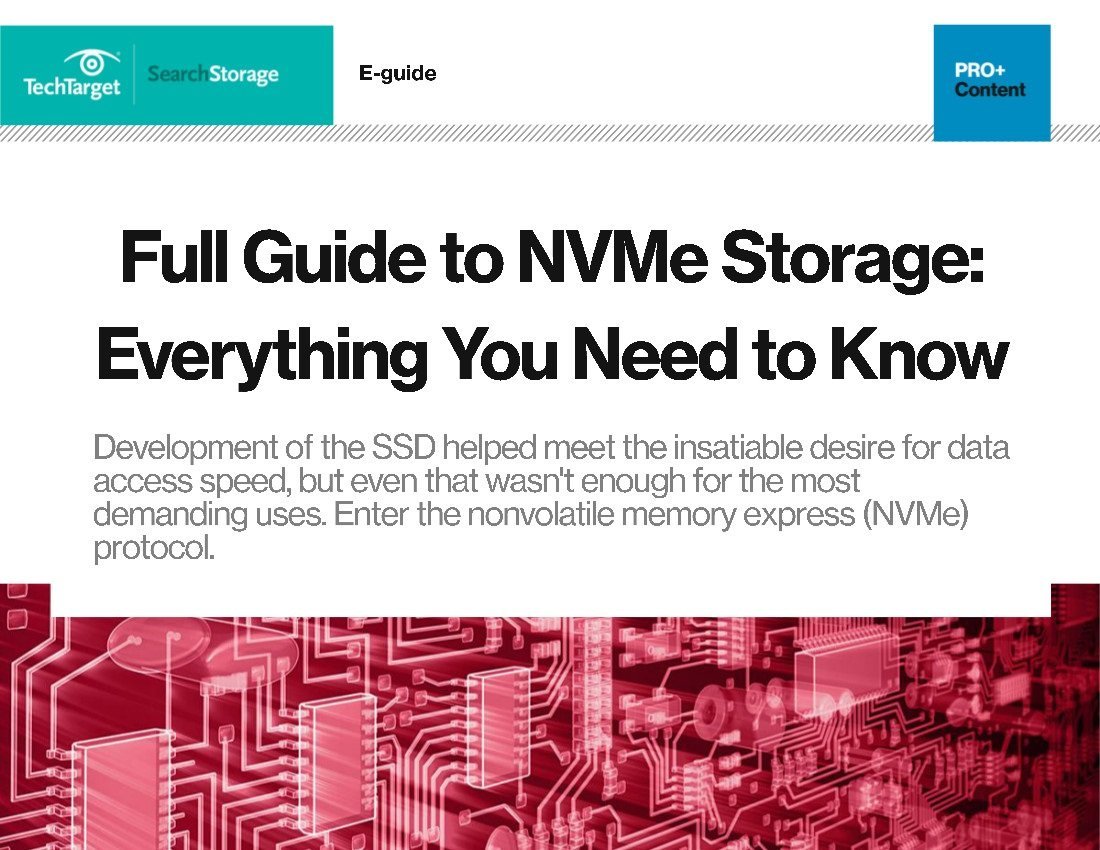 NVMe: The networked future for insatiable data access speeds
NVMe's no longer just a protocol for fast flash drive connections to a PC via the PCI Express bus. Discover the future of NVMe usage here, including exclusive details on how the M.2 SSD form factor is approaching server-ready capacity and speed.

By submitting your personal information, you agree that TechTarget and its partners may contact you regarding relevant content, products and special offers.

You also agree that your personal information may be transferred and processed in the United States, and that you have read and agree to the Terms of Use and the Privacy Policy.

John Fowler, Sun executive vice president of systems, said he disagreed with analyst estimates that widespread adoption of expensive solid-state disks wouldn't arrive until at least next year. "I read these press reports where people are talking about 2010," he said. "We're here to tell you to forget that. By the Christmas holidays, anyone with an I/O performance intensive application is going to be trying to find a way to get [SSDs] into their systems."

Sun also divulged some of its storage roadmap during the talk, saying that while customers will be able to put together their own Tier 0 inside existing servers and disk arrays this year, the company also plans to prepackage hybrid storage devices with solid-state disk drives and spinning disk drives.

Fowler added that products from Sun's much-rumored FishWorks project, described as a software management layer meant to make open source products more accessible to nontechnical users, will also become available this year.

Sun claims its ZFS software will give it an advantage in the market when it comes to the management of solid-state disk drives. ZFS and the OpenSolaris operating system already have features to accommodate storage pools built with a mix of spinning drives, solid-state disks and memory, Fowler said. One such feature is the ability to create a separate Intent Log, a pool of recent transactions staged on solid-state drives after passing through cache but before permanent storage on spinning disk.

Sun said ZFS will also allow customers to mix spinning drives with flash disk drives any way they see fit, including mirroring volumes between spinning drives and flash drives. "We've had some users asking for 100% flash-based storage for running things like Oracle databases," Fowler said.

The flash disk drive revelation is part of Sun's latest declaration about how it plans to take over the storage market -- this time because proprietary disk arrays will need to adapt to "truly take advantage" of flash drives, according to Fowler. Sun claims its hardware is already optimized for flash drives, with NVRAM on dedicated RAID controllers.

While analysts agreed that flash disk drives will become a checklist item for storage systems soon, some of Sun's plans were met with skepticism. Although Sun discussed the performance of flash drives extensively, Illuminata analyst John Webster pointed out, "They didn't spend much time at all talking about the reliability" of solid-state media, which supports a finite number of write cycles.

Sun officials countered that enterprise products will be much more robust than consumer products, where flash drives have been deployed most widely. "If you have a sophisticated controller in front of solid-state disk drives, you'll see less of a problem with data refresh than there has been with consumer-based devices," said Michael Cornwell, head of NAND business development for Sun.

Given the lack of widespread deployment in the enterprise, Webster also questioned the MTBF numbers Sun cited for flash disk drives -- 2 million hours as opposed to 1.2 million hours. "Has there been enough history to determine MTBF on flash drives?" Webster asked.

"There is enough to generate the data we've seen," Cornwell said. "We'd have to refer you to our manufacturer's specifications on that."

Cornwell and Fowler declined to say who Sun's solid-state manufacturer will be, or if Sun will use one partner for the controller architecture and the flash drive media or different partners for each.

EMC became the first storage vendor to pledge support for solid-state disk drives, revealing in January that it will have solid-state drives for its Symmetrix systems. HDS said last month it will also make solid-state drives an option, probably late this year. Xiotech said it will have solid-state drives on its Emprise storage systems this year, as well, and Net App president Tom Georgens said that his company will also incorporate solid-state drives. EMC is the only vendor to disclose its drive partner -- it has a deal with Stec, which industry sources said is exclusive.
Dig Deeper on SSD array implementations
PRO+
Content
Find more PRO+ content and other member only offers, here.