News
Stay informed about the latest enterprise technology news and product updates.
EMC to add solid-state disk to Clariion storage array
EMC will incorporate SSD technology into a new Clariion model due out in August. Meanwhile, HP pooh-poohs SSDs in SANs but is working on a server-based approach.
Looking for something else?
TECHNOLOGIES
EMC Corp. will add a new Clariion midrange storage array with solid-state drives (SSD) over the next few months, SearchStorage.com has learned.
EMC began offering SSD in its enterprise Symmetrix systems earlier this year, and industry sources say that EMC will extend its support of SSD technology with the Clariion CX4-80, which is expected to be generally available in August. .

Download this free guide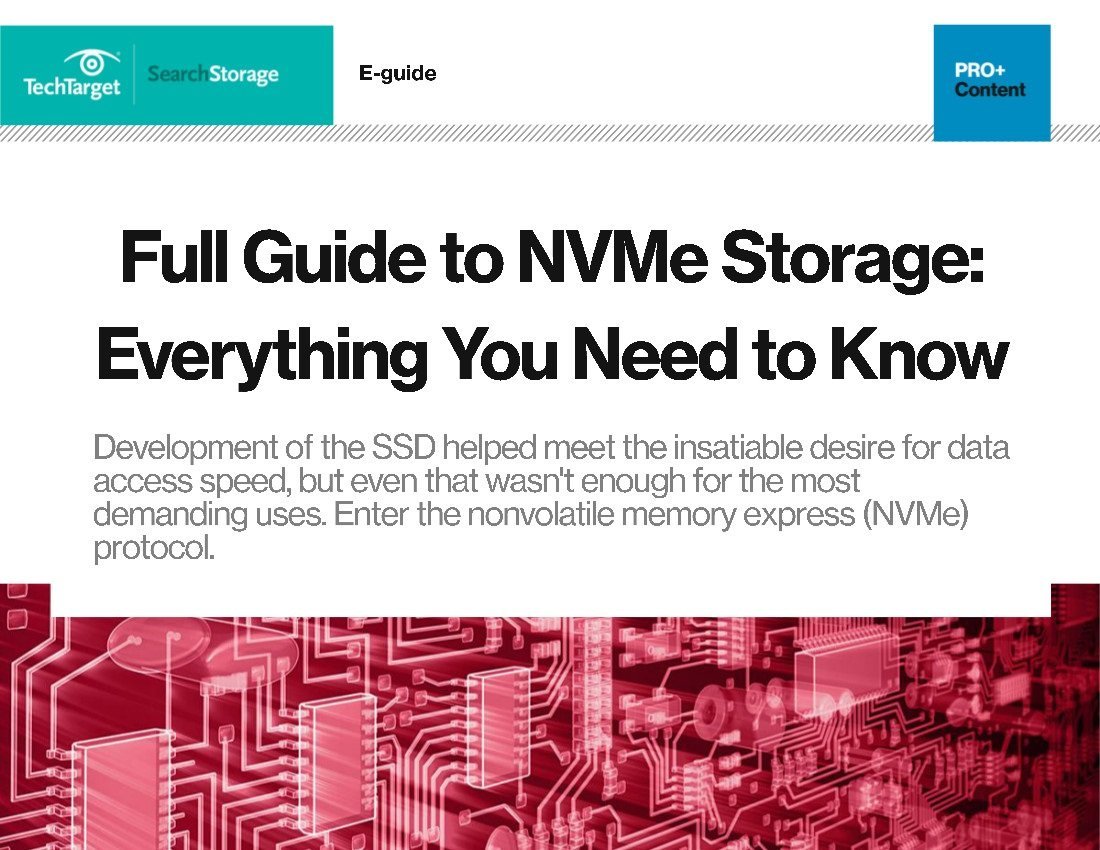 NVMe: The networked future for insatiable data access speeds
NVMe's no longer just a protocol for fast flash drive connections to a PC via the PCI Express bus. Discover the future of NVMe usage here, including exclusive details on how the M.2 SSD form factor is approaching server-ready capacity and speed.

By submitting your personal information, you agree that TechTarget and its partners may contact you regarding relevant content, products and special offers.

You also agree that your personal information may be transferred and processed in the United States, and that you have read and agree to the Terms of Use and the Privacy Policy.

One source familiar with the SSD-supported Clariion arrays said the latest versions of Symmetrix and Clariion arrays share hardware components, including disk trays and outer skins. This makes it relatively simple for EMC to slot SSDs into the Clariion now that it's been done for Symmetrix.

EMC would neither confirm nor deny the rumors about the Clariion CX4-80, issuing a statement saying, "At EMC World, we spoke about the many benefits of flash technology, EMC's investment in testing and qualification, and that we would incorporate it into our product portfolio where it made the most sense. Beyond that, we are not going to be able to provide any specifics as to announcements, products or time frames."

Since EMC pledged in January to support SSDs in Symmetrix, other vendors, including Xiotech, FalconStor, Nimbus Data Systems, Hitachi Data Systems, NetApp and Sun, have also said they would support SSDs in enterprise storage arrays. That leaves Hewlett-Packard and IBM as the two major players who have yet to divulge their plans regarding SSDs in enterprise storage arrays.

IBM, which supports SSDs on the server side, has been noncommittal so far.

HP goes server-slot route for SSDs

HP isn't likely to jump on the SSD bandwagon soon, at least not in the way that the other enterprise array vendors have. Patrick Eitenbichler, director of marketing of HP Storage Works, said that while SSD has value as a Tier 0 for I/O-intensive applications, some of HP's competitors are getting carried away.

"I've been very entertained by what other vendors have put out there about solid-state drives," Eitenbichler said. "We test devices from all the solid-state vendors in our labs, and we break every one of them. As Tier 1 storage, it wears out very quickly. It's not durable, and the cost benefit is not there."

Eitenbichler leaves the door open for SSDs eventually showing up in Tier 1 storage. In fact, he said that, through HP's OEM relationship with HDS, "We'll have it in XP by the end of the year, and over the next two years it will become more durable and the price will come down. But we definitely do not see it replacing Fibre Channel disk. The biggest challenge to Fibre Channel is SAS and SATA."

In the short term, HP appears more bullish about putting SSD in servers instead of on storage arrays. Flash vendor Fusion-io revealed Wednesday that it is working with HP to slot SSDs directly into servers, rather than putting them on the SAN side or attaching them through the normal server drive bays.

Fusion-io CEO Dan Basile was mum on details about what he termed a collaboration between the two companies to bring new products to market and declined to say when codeveloped products might become available from HP. Fusion-io's NAND Flash drives, which come in capacities up to 320 GB, plug directly in to the PCI Express bus, rather than sitting behind a storage controller and are seen as a drive by the host system.

"It's our belief that you don't get the full performance from flash unless it's plugged directly into the arteries of a server," Basile said. "It doesn't make any sense to put it behind traditional RAID controllers." Done right, he added, these direct-attached devices could offer the performance equivalent of a 1,000-drive SAN. "It's like a SAN in the palm of your hand," he said.

The source familiar with EMC's CX4-80 said it would likely produce more IOPS than Fusion-io. "Supposedly, the IOPS is 2,000 per drive. If the aggregate I/O is cumulative, that's 600,000 IOPS per array, beating Fusion-io's 150,000 by a long shot."

According to one analyst, the array controller and server approach to SSDs has value. "It depends on the size of the company and what their workload is," said David Hill of the Mesabi Group. For example, shops running large storage arrays may prefer adding SSDs to their SAN, but a Web 2.0 hosting provider might find it easier to drop a device into the network above the array. "Putting it closer to the host could give you more flexibility," he said.
Dig Deeper on SSD array implementations
PRO+
Content
Find more PRO+ content and other member only offers, here.