News
Stay informed about the latest enterprise technology news and product updates.
Enterprise systems may need redesign to benefit from solid state drives
Lab tests lead IDC to conclude that enterprise systems will need to be redesigned to get the full benefit from flash. Systems will need the intelligence to recognize when they're dealing with SSDs, which write slower than they read, and feed them data accordingly.
Looking for something else?
TECHNOLOGIES
Test results from IDC on solid-state drives (SSD) suggest the performance gap between SSDs and traditional desktop hard drives might be narrower than previously thought. IDC says that system redesigns will be necessary -- in enterprise storage systems as well as PCs -- to get the full benefit from flash.

Download this free guide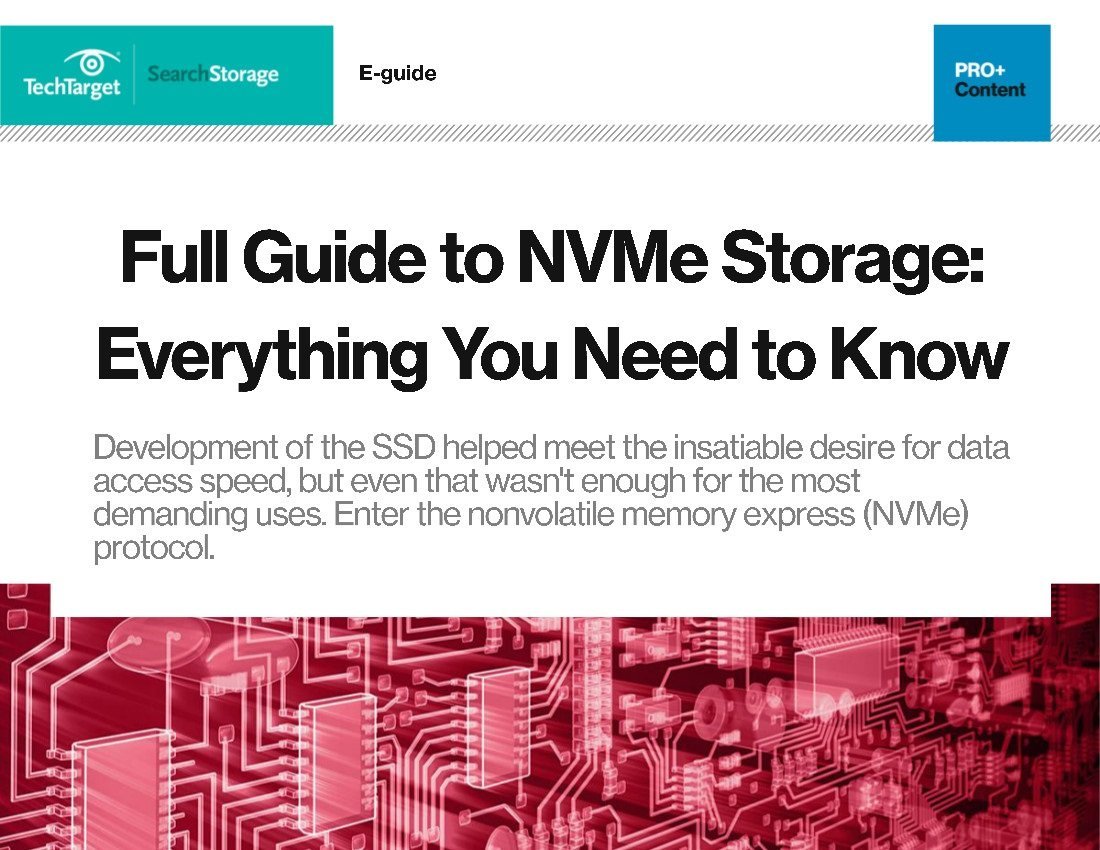 NVMe: The networked future for insatiable data access speeds
NVMe's no longer just a protocol for fast flash drive connections to a PC via the PCI Express bus. Discover the future of NVMe usage here, including exclusive details on how the M.2 SSD form factor is approaching server-ready capacity and speed.

By submitting your personal information, you agree that TechTarget and its partners may contact you regarding relevant content, products and special offers.

You also agree that your personal information may be transferred and processed in the United States, and that you have read and agree to the Terms of Use and the Privacy Policy.

IDC declined to disclose the specific results of the benchmarking done on laptop PCs using standard tools such as BAPCo's MobileMark and PC World's WorldBench. But after testing 2.5-inch 7,200 rpm desktop drives against multilevel cell and single-cell SSDs, as well as hybrid devices, with a third-party lab, IDC researcher David Reinsel said that the results suggest previous lab tests on isolated devices may have been misleading.

"Many tests have been done comparing 4,200 rpm hard drives to SSDs," Reinsel said. "But 5,400 rpm is now mainstream and even 7,200 rpm disks are available." He added that the gap between performance in systems with 7,200 rpm 2.5-inch drives and systems with SSDs was much smaller than expected, mainly because of the performance of the entire system rather than just the storage device.

The testing led Reinsel and his team to conclude that system redesigns will be necessary -- in PCs and enterprise storage systems -- to gain the full benefit from flash in consumer and enterprise systems. He suggested that systems will need the intelligence to recognize when they're dealing with an SSD and feed it data accordingly. SSDs will generally write much more slowly than they read.

"There will be what's called a 'period of interdependency' with this technology," Reinsel said. "It isn't just plug and play."

All of this suggests SSDs are at least a generation away from full usability, especially in the enterprise. However, IDC is sticking with its earlier forecast that deployment of SSDs in enterprise computing will pick up by 2010 and that enterprise computing applications will grow from 12% of SSD revenue in 2007 to more than 50% by 2011, Reinsel said.

"How many times in the hard drive industry have they announced that we're coming up to some barrier that can't be overcome?" Reinsel asked. "Yet they've always found ways to overcome the hurdles with new innovations, like perpendicular recording. I expect the same to happen with flash."

Reinsel was encouraged by the improved performance of hybrid drives in IDC's recent tests. "With the first generation of these devices, we were surprised at the lackluster performance," he said. "They were OS-dependent and required the system to recognize the specific device. The second generation is OS-agnostic and has the intelligence in the drives to learn user behaviors. If that's the difference we see in the second generation, what might we see in the third and fourth generations?"

Storage vendors differ on SSD integration strategies

Some storage vendors, including Pillar Data Systems, Hewlett-Packard and Fujitsu Computer Products of America, have also taken this tack, with HP saying it plans to integrate SSDs directly into the bus on its servers rather than putting them behind the network. Other vendors, like EMC, have pointed out that even with network latency, the overall loop between server and storage is still faster with SSDs.

Mike Willard, principal at enterprise storage reseller Soccour Solutions, is inclined to side with the latter view. "Flash drives are not the only solid-state drives in use, as there are still DDR products that we have placed in I/O-intensive database environments with great success," he wrote to SearchStorage.com in an email. " The performance gap between these products and 15,000 rpm FC drives has been significant in real-world application."
Dig Deeper on SSD array implementations
PRO+
Content
Find more PRO+ content and other member only offers, here.