News
Stay informed about the latest enterprise technology news and product updates.
NetApp discloses its solid-state drive and 8 Gbps Fibre Channel plans
As part of a bundled announcement that includes a new midrange disk array model, NetApp says it will support 8 Gbps Fibre Channel and solid-state drives by February 2009..
Looking for something else?
TECHNOLOGIES
NetApp Inc. announced roadmap plans for supporting flash memory, as well as 8 Gbps Fibre Channel in its filers by February 2009. It also updated its automated services software and added a model to its FAS3100 line of midrange disk arrays.

Download this free guide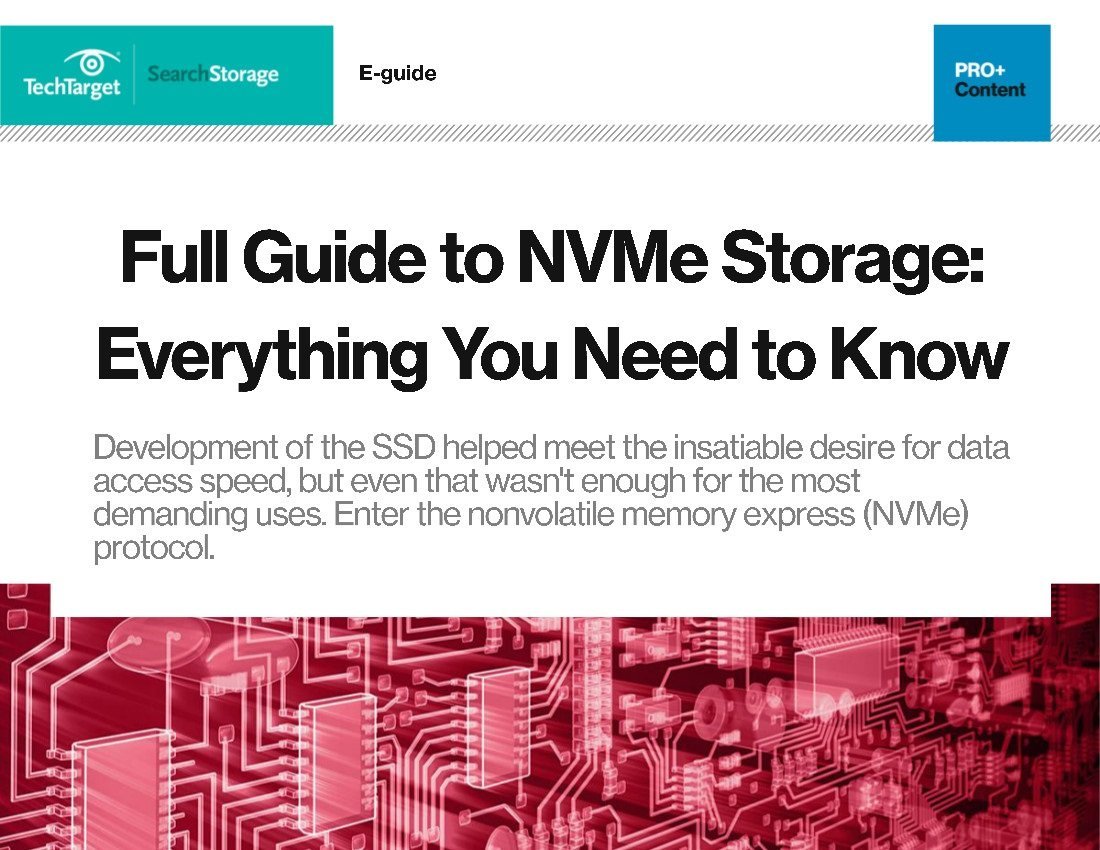 NVMe: The networked future for insatiable data access speeds
NVMe's no longer just a protocol for fast flash drive connections to a PC via the PCI Express bus. Discover the future of NVMe usage here, including exclusive details on how the M.2 SSD form factor is approaching server-ready capacity and speed.

By submitting your personal information, you agree that TechTarget and its partners may contact you regarding relevant content, products and special offers.

You also agree that your personal information may be transferred and processed in the United States, and that you have read and agree to the Terms of Use and the Privacy Policy.

Two-pronged SSD approach planned

NetApp already allows customers to add 16 GB DRAM cards, called performance acceleration modules (PAM), to a filer's cache using the PCIe bus. Now its roadmap includes support for persistent solid-state storage using flash memory.

The vendor will take a two-pronged approach to flash, allowing solid-state drives (SSD) to expand cache like PAMs already do, as well as incorporate flash memory in a hard-drive form factor into filers, said Patrick Rogers, NetApp vice president of solutions marketing.

The PAM type of flash integration will probably be first on the docket for NetApp. "We believe the optimal use case initially lies in cache," Rogers said. Netapp has developed wear-leveling algorithms that will be incorporated into the WAFL. WAFL's awareness of access frequency and other characteristics for blocks will allow it to use both DRAM and flash, with flash as the "victim cache" -- a landing spot for blocks displaced from primary DRAM cache.

Why not just use DRAM? "If you have a very large amount of data, and you can't accommodate it entirely in [DRAM] cache, flash offers much higher capacities," Rogers said.

During the first quarter of 2009, NetApp will also be rolling out support for flash-based SSDs that emulate hard drives within the filer for persistent storage. NetApp customer Tom Becchetti, storage engineer for a large medical manufacturing company, said he strongly prefers this approach. "I don't want to be at the mercy of what the vendor thinks should be done with data and whether their algorithms are good or code-developed properly," he said. At the same time, he said he's looking forward to support for SSDs. "We waste a ton of NetApp disks just to guarantee performance," he added. For one database in his environment, Becchetti said that less than a terabyte of actual data takes up several terabytes of disk.

NetApp did not name its SSD partner, but Wachovia financial analyst Aaron Rakers speculated in a note to clients today that NetApp will use Stec.

Support for 8 Gbps Fibre Channel

The same PCIe expansion slots that will support flash will also be used to add in 8 Gbps Fibre Channel target host bus adapters (HBA) by next February. Rogers said filer processor boards will remain natively 4 Gbps.

Updates to services software

NetApp has added a premium level to its AutoSupport call-home software. AutoSupport already comes free to NetApp users. AutoSupport gives basic text-based reports on system configurations on a regular basis and supplies configuration information automatically to remote services engineers in case of an outage. NetApp premium AutoSupport adds the ability to monitor performance trends on the system and map dependencies among devices in the environment. NetApp also added a remote support diagnostic tool, which plugs directly into a remote LAN module (RLM) on the storage controller, according to a blog by Rusty Walther, NetApp senior vice president of global support.

"Let's say that AutoSupport opens a case because a system is having some type of problem … [and] a tech support engineer (TSE) … decides he needs a log file, a core file, performance statistics [or] a fresh AutoSupport update," Walther wrote. "The TSE clicks on an icon in their case screen that activates a link to the remote support diagnostics tool in that specific filer. If the customer has given permission in advance, the connection is instantly established. If the customer prefers to activate on-demand, they can do it situationally."

While just announced today, premium AutoSupport has been out in the field since at least this spring. Becchetti tested it earlier this year and "grew dependent on it." Premium AutoSupport produces color-coded, logical views of filers from disk aggregates to file systems, as well as a topology report on the overall environment. As for the performance monitoring and automated data collection for troubleshooting, Becchetti said, "It's about time."

FAS3160 updates midrange product line

NetApp introduced its FAS3100 line of midrange disk arrays earlier this year with two models, the FAS3140 and FAS3170. Today it slotted another model, the FAS3160, between the two previous models. The FAS3140 scales to a maximum capacity of 672 TB, while the FAS3140 scales up to 420 TB and the FAS3170 up to 840 TB. Neither the FAS3140 nor the FAS3160 had not been performance-benchmarked separately from the FAS3170, Rogers said.

FAS3140 user Matt Stein, vice president of network services for Primus Telecommunications Canada, said his company is evaluating the FAS3160 to provide storage to support the expansion of Primus' hosted virtual server collocation program. "We started asking about the FAS3170 and the FAS3160 came up," he said. "We need more capacity, but both the FAS3070 and FAS3170 so far seem like they scale beyond what we anticipate needing."

According to Enterprise Strategy Group analyst Mark Peters, "It is far better for vendors that aspire to offer an end-to-end capability to have a product range that has some potential for perceived overlap, rather than one which suggests even a whiff of a gap."
Dig Deeper on SSD array implementations
PRO+
Content
Find more PRO+ content and other member only offers, here.