News
Stay informed about the latest enterprise technology news and product updates.
HDS embraces SSDs while users mull adoption
Hitachi Data Systems says it will support solid-state drives with Fibre Channel interfaces in early 2009.
Looking for something else?
TECHNOLOGIES
Hitachi Data Systems (HDS) will add solid-state drives (SSDs) to its Universal Storage Platform V (USP V) and USP VM enterprise disk arrays, mostly likely in partnership with SSD manufacturer STEC Inc.

Download this free guide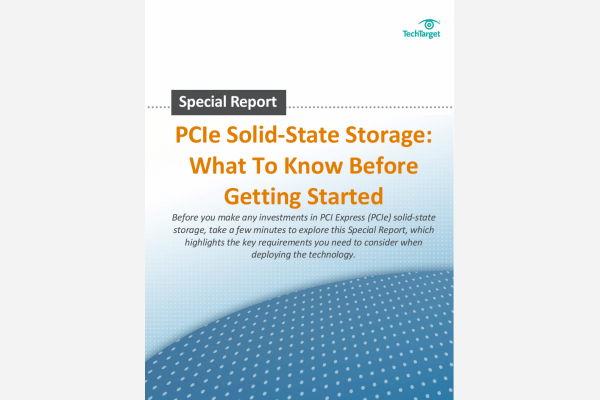 Weigh the pros and cons of PCIe-based SSD
So you've determined that flash storage is right for your organization, but with so many types and deployment models available, how do you choose amongst all the varieties? Start by considering PCIe-based SSD.

By submitting your personal information, you agree that TechTarget and its partners may contact you regarding relevant content, products and special offers.

You also agree that your personal information may be transferred and processed in the United States, and that you have read and agree to the Terms of Use and the Privacy Policy.

HDS became the last of the major vendors to solidify its SSD plans when it made the announcement Monday, but industry experts and users say there's still a long way to go before SSDs become mainstream.

Robert Basilio, HDS vice president of storage platforms product management, says the drives will begin shipping just after the New Year. However, he wouldn't name the drive supplier. HDS has pledged to support the SSDs that Hitachi Global Storage Technologies (HGST) is co-developing with Intel Corp. when they become available, but that probably won't be until 2010.

Basilio says HDS will use drives with a 4 Gbps Fibre Channel interface. EMC supplier STEC is now the only major manufacturer of enterprise SSDs with non-SATA interfaces. "You can draw your own conclusion," says Basilio. When the HGST-Intel drives begin shipping, HDS is expected to carry SSDs from multiple suppliers.

HDS will use SSDs in 73 GB and 146 GB capacities, and they can be added to existing USP arrays in groups of four – the minimum RAID group necessary for disks to be recognized by the arrays. The SSDs will be persistent storage rather than an expanded read cache, which some vendors have chosen instead of or alongside persistent SSDs. Basilio says persistent SSDs are "the usual, quicker way to offer a mix of solid-state and other devices—it's less demanding from a hardware standpoint."

The USP V has offered cache expansion using DRAM since May, when HDS swapped out an 8 GB cache card for a 16 GB cache card to double its peak cache capacity to 512 GB. The larger cache will allow customers to lock even large files in cache if they're frequently accessed.

From a software standpoint, HDS's existing storage management software for USP will allow provisioning and managing of Flash SSDs like any other disk drives, and will support thin provisioning, replication, volume copies and shadow images for SSDs at general availability.

Looking through a murky crystal ball at the SSD market

EMC Corp. became the first major supplier to announce support for Flash-based SSDs behind a storage controller last January. Since then, all of the major storage vendors have promised their own SSD support but most won't begin shipping SSDs before 2009.

"The market is still really green," says Basilio. "Though it looks like we're a year behind, we're still at the very, very beginning. We're just starting to see interest surface [among customers]."

Users remain wary as they weigh performance needs against the steep price of SSDs. "Eighty percent of the time the groups asking for the highest performance don't actually know what performance requirements their applications actually have," says David Ping, data center storage team lead at Pacific Gas and Electric (PG&E). "They're asking for the fastest vehicle to get from point A to point B, but they don't know if they really need to get there that fast."

Ping says there are power and cooling advantages to SSDs over spinning disk, but he's looking for vendors to change their disk array hardware so they can also use SSDs for space savings. "You might have retrofitted the USP, but unless you've retrofitted it to install two SSDs in the slot where I had one hard drive, you're still dealing with a large USP footprint on the data center floor," he says. Ping says he'd like to see SSDs become like blade servers for storage, improving density as well as affecting power and cooling costs.

Some Hitachi customers told SearchStorage.com in May that they're eager to see Flash drives supported as persistent storage in the USP V. Rodney Willms, senior storage engineer at Sutter Health, says he expects SSDs and high-speed SAS disks to comprise most of his disk capacity within the next two to three years. "If the application needs it, we'll buy it," he says.

It's difficult to get a definitive answer as to how the market will play out, according to Andrew Reichman, senior analyst at Forrester Research Inc. "In enterprise storage in general, performance analytics are terrible—it's essentially tuning by trial and error," he says. "Without being more sophisticated about it, there's not that much opportunity for an expensive technology to make more difference."

However, there are use cases where SSDs clearly make sense. "If you're short-stroking, prices are getting down close to parity [with spinning disks], and you get better performance," says Reichman. But while there are a few use cases, as Reichman sees it, "the hype has been way beyond that."

According to IDC research manager Jeff Janukowicz, IDC forecasts SSDs in enterprise storage will generate more than $800 million by 2012 vs. more than $8 billion for hard drives in 2012.
Dig Deeper on SSD array implementations
PRO+
Content
Find more PRO+ content and other member only offers, here.