News
Stay informed about the latest enterprise technology news and product updates.
Atrato adds solid state, smarter software
A year after developing no-maintenance storage arrays, startup Atrato is adding management capabilities and supporting solid-state drives (SSDs).
This Article Covers
RELATED TOPICS
Looking for something else?
TECHNOLOGIES
Atrato Inc., which came out of stealth a year ago with self-healing Velocity1000 (V1000) storage arrays, is adding solid-state support and upgraded software to intelligently migrate data between tiers.

Download this free guide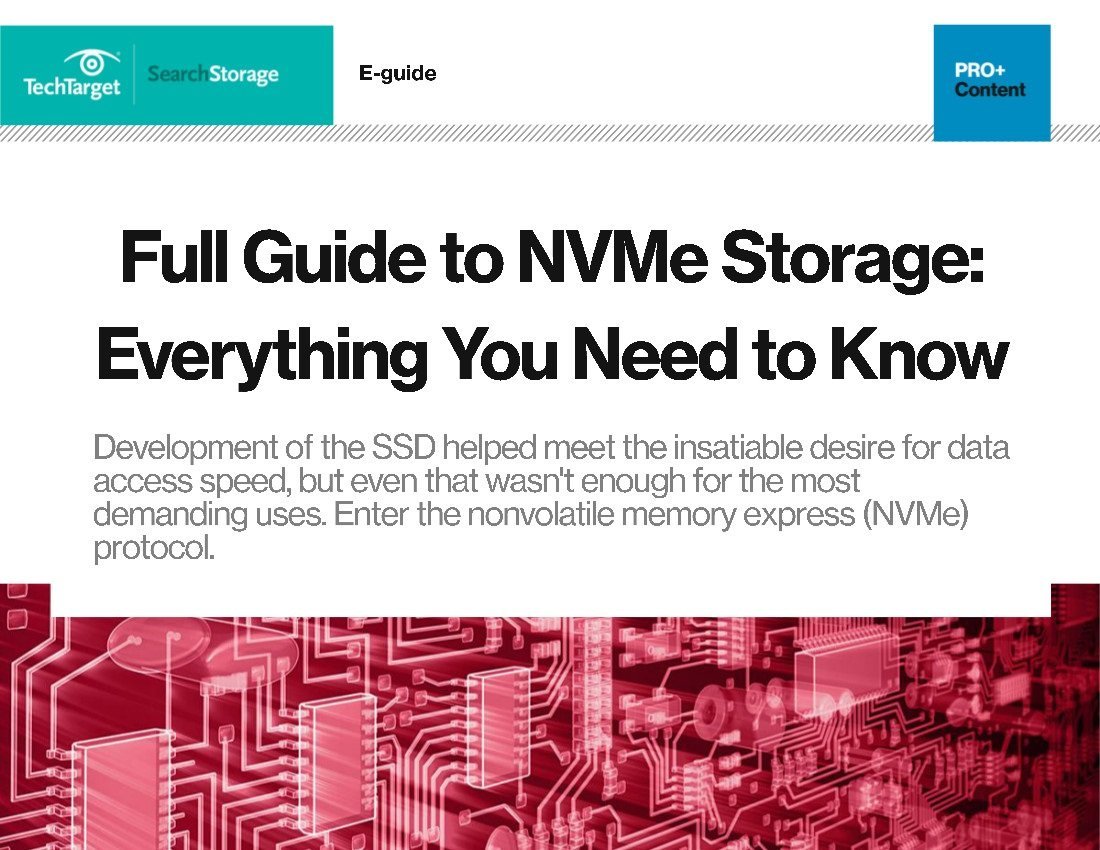 NVMe: The networked future for insatiable data access speeds
NVMe's no longer just a protocol for fast flash drive connections to a PC via the PCI Express bus. Discover the future of NVMe usage here, including exclusive details on how the M.2 SSD form factor is approaching server-ready capacity and speed.

By submitting your personal information, you agree that TechTarget and its partners may contact you regarding relevant content, products and special offers.

You also agree that your personal information may be transferred and processed in the United States, and that you have read and agree to the Terms of Use and the Privacy Policy.

The V1000 will support four- and eight-pack solid-state drive (SSD) units within the controller for a maximum of 1.2 TB of capacity. Atrato will also support what it calls a just a bunch of flash (JBOF) system with 10 SSDs in a 1U container for a max of 1.6 TB. The V1000 supports single-level cell (SLC) and multi-level cell (MLC) NAND flash or a combination of SLC and MLC.

Atrato's first SSD partner is Intel Corp. – it will support Intel X25-E SLC and X25-M MLC SSDs – but CEO and president Steve Visconti said Atrato has tested devices from Fusion-io, Micron Technology Inc. and STEC Inc., and will support more types of solid state down the road.

Less cache required

The new version of Atrato Virtualization Software (AVS) includes something the vendor calls an ApplicationSmart algorithm to manage data across storage tiers. The idea is to place the most critical data in tier 0 (SSDs) and less critical data in tier 1 (hard disk drives), and eventually move data to tier 2 for backup. AVS does that by detecting changes to data access patterns, building profiles around the patterns, and determining how much and what type of tier 0 storage to use.

Visconti said AVS eliminates the need for adding cache by identifying access hot spots that make access patterns more predictable and speed performance.

SSD support and the upgraded AVS will be available in May. Visconti said pricing isn't yet set, and will likely be determined by the end of this month. He said AVS works with other vendors' storage, and Atrato will likely also sell it independently of its arrays.

SSDs require more intelligent tiering

Analysts said the type of migration Atrato promises with AVS is something all storage vendors will need to manage SSDs. Software such as AVS helps customers keep costs down by placing only the most important data on SSDs and keeping the rest on disk; it also adds management capabilities for SSDs that most storage controllers lack. Compellent Technologies Inc. and Sun Microsystems Inc. already have similar capabilities, and other storage vendors have indicated they'll have more intelligent management for SSDs.

"They claim to have found a way to take multiple streams of data and recognize access patterns and put order in it," said Arun Taneja, founder and consulting analyst at Hopkinton, Mass.-based Taneja Group, of Atrato. "If you can do that, then your cache becomes much more effective. And if you do that, you can also predict migration needs. Their claim is that they can create order out of chaos, make the SSD layer way more predictable and responsive, and migrate data to other layers in a much more efficient fashion."

Mark Peters, an analyst at Milford, Mass.-based Enterprise Strategy Group, said intelligent management is required to improve the economics of solid state. "I think we're going to see more and more of that," Peters said. "The only reason we have a storage hierarchy in the first place is economics – if everything were free, we'd have it all on DRAM. But we have scarce resources, so we choose which data goes on which device. And you have DRAM, flash, SLC, MLC, and they all have different prices and attributes. We have to move data from spinning disk, which has many types, to solid state, which will have different types."

Peters said the improved data management gives Atrato another selling point to go with its self-healing capabilities.

"If you have a system that's auto-managing, it helps that it's auto-healing," Peters said. "If you can set it and forget it and it doesn't break, that's a good connection." The auto-healing alone hasn't been enough for Atrato to make much of an impact. Visconti said Atrato has approximately 15 customers after a year of shipping, mostly in digital media and high-performance computing markets. He said the startup has concentrated on upgrading the software and will now devote more resources to selling systems. "We spent the last year developing our next set of software," he said. "You'll see us emerge this spring with a lot more outbound presence."
Dig Deeper on SSD utility and application tools
PRO+
Content
Find more PRO+ content and other member only offers, here.