News
Stay informed about the latest enterprise technology news and product updates.
Compellent begins shipping solid-state drives in Storage Center SAN
One early adopter is using a SAN made up of SSDs to boost the performance of a tricky application, and says tiered storage progression may come in handy in the future.
Looking for something else?
TECHNOLOGIES
Compellent Technologies Inc. today announced that STEC Inc. solid-state drives (SSDs) are available in its Storage Center storage area network (SAN) products, either as additions to current systems or bundled with Fibre Channel (FC) drives in new systems.

Download this free guide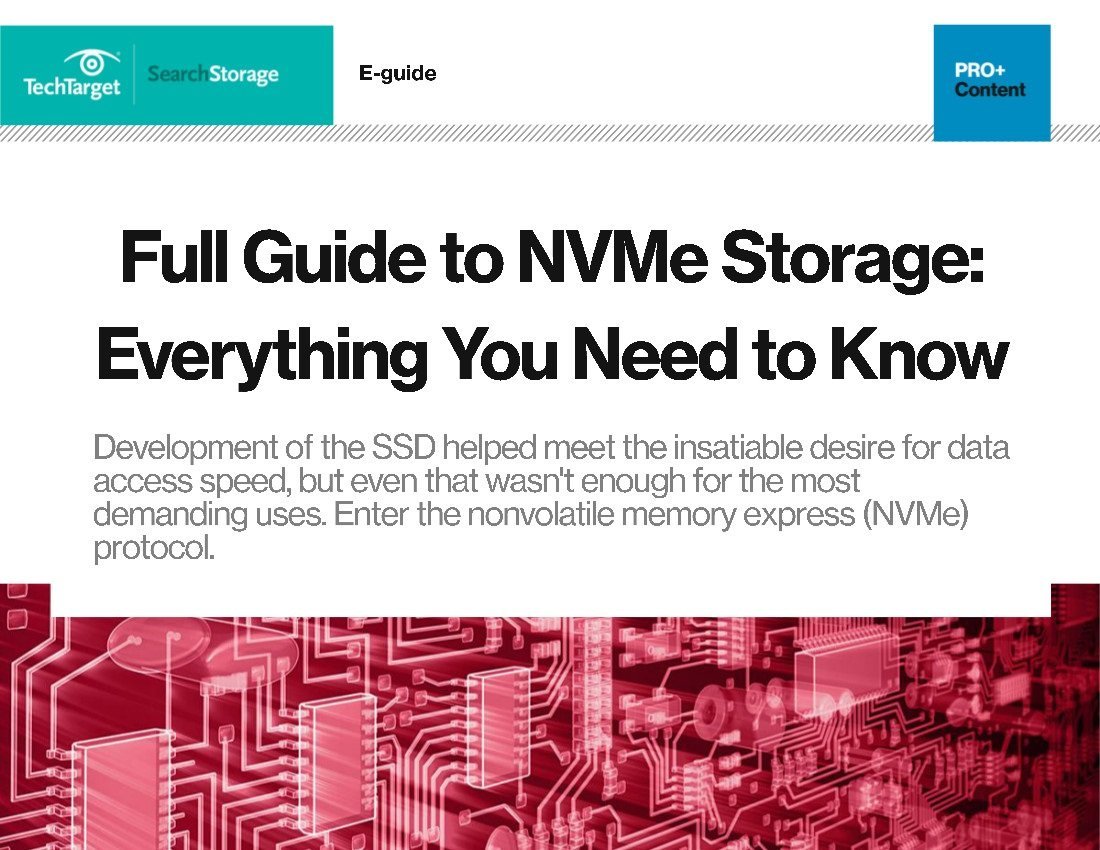 NVMe: The networked future for insatiable data access speeds
NVMe's no longer just a protocol for fast flash drive connections to a PC via the PCI Express bus. Discover the future of NVMe usage here, including exclusive details on how the M.2 SSD form factor is approaching server-ready capacity and speed.

By submitting your personal information, you agree that TechTarget and its partners may contact you regarding relevant content, products and special offers.

You also agree that your personal information may be transferred and processed in the United States, and that you have read and agree to the Terms of Use and the Privacy Policy.

The STEC 146 GB ZeusIOPS SSDs will be available starting this week through Compellent's channel partners, Compellent vice president of marketing Bruce Kornfeld said. Customers must buy a minimum of three drives – two for data and one to use as a hot spare – at $16,999 per drive. One hot spare is needed per SAN regardless of how many data drives are used, Kornfeld said.

For customers starting with new systems with a combination of solid-state drive and hard disk drives, Compellent is also rolling out a bundle of 10 15,000 RPM Fibre Channel disk drives (total capacity 4.5 TB) and three solid-state drives starting at $84,000. That system also comes with Compellent's software package, which includes tiered storage progression, a block-level data migration algorithm that moves data between tiers of storage automatically according to frequency of access.

One early adopter, Bill Konkol, vice president of technology for broadcast advertising design firm Marketing Architects Inc., first installed a Compellent SAN a year ago to store call log data at the company's colocation site. At the time, the company's primary storage was on an EMC Corp. Clariion disk array.

Marketing Architects is in the process of moving its business processes to a new ERP system, and runs most of its workflows through a program called Pivotal CRM. Most of Marketing Architects' data is structured – all told, the firm has approximately 300 GB of data, 60 GB of which are part of the Pivotal system.

Without SSDs, Konkol said the system grew cumbersome to use, even with so little data, because of the way data was laid out on disk.

"The tool we're using uses a very flat data structure – we have one table, for example, that's 300 fields wide," he said. Searching against the database or running stored queries could take hours on a hard-drive based system, according to Konkol. "Our finance and marketing teams would have to run queries before or after hours to avoid compromising the performance of the whole system," he said. "We needed something cost-effective to boost the performance of the existing system."

To get the required performance, Konkol says he would have to short-stroke 28 Fibre Channel disks, which would've cost $75,000 more than the Compellent SAN he bought with under 500 GB of STEC SSDs. Adding the SSDs has boosted performance enough so that searches that previously took hours now take around 15 minutes, he said.

EMC also offers solid-state drive options, but Konkol said he chose to work with Compellent instead through a local VAR he has a close relationship with. "As long as I was implementing new technology, I wanted to be comfortable with the people I was working with to deploy it," he said.

While he's happy with the arrangement for now, Konkol said he's awaiting a Compellent rollout of an 8 Gbps FC bus for the Storage Center SAN front end. "Right now the bus is 4 Gig," said Konkol. It hasn't prevented Marketing Architects from deploying SSDs successfully, but "it's currently the limiting factor" of performance on the array.
Dig Deeper on SSD array implementations
PRO+
Content
Find more PRO+ content and other member only offers, here.