News
Stay informed about the latest enterprise technology news and product updates.
Automated tiered storage startup Avere adds support for flash SSDs
Automated tiered storage startup Avere adds the FXT 2700 flash-based solid-state drive (SSD) appliance to its clustered NAS product line, but integration with rest of FXT Series will have to wait.
This Article Covers
RELATED TOPICS
Looking for something else?
TECHNOLOGIES
As it pledged when it first shipped products last October, automated tiered storage startup Avere Inc. is shipping flash solid-state drives (SSDs) for use in its FXT Series clustered NAS appliances.

Download this free guide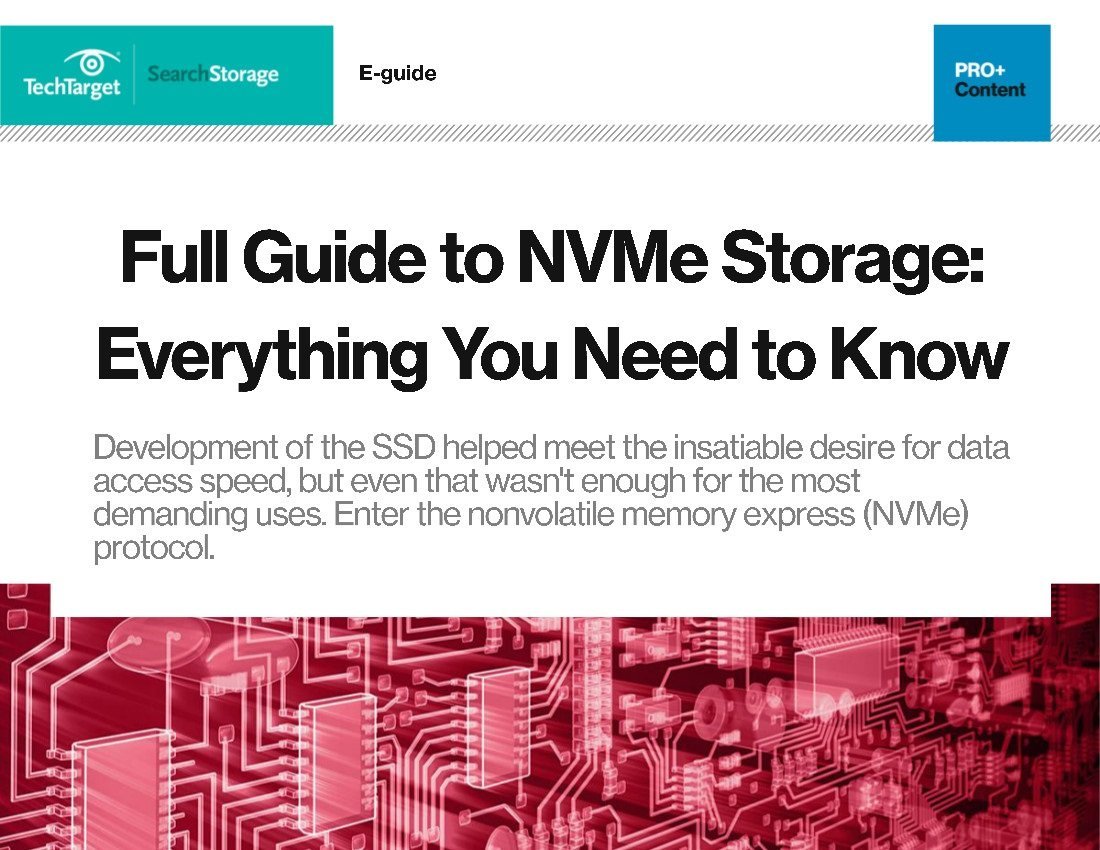 NVMe: The networked future for insatiable data access speeds
NVMe's no longer just a protocol for fast flash drive connections to a PC via the PCI Express bus. Discover the future of NVMe usage here, including exclusive details on how the M.2 SSD form factor is approaching server-ready capacity and speed.

By submitting your personal information, you agree that TechTarget and its partners may contact you regarding relevant content, products and special offers.

You also agree that your personal information may be transferred and processed in the United States, and that you have read and agree to the Terms of Use and the Privacy Policy.

Avere this week said it qualified Intel Corp.'s 64 GB X25-E single level cell (SLC) SSDs in a new appliance called the FXT 2700, which follows the first two FXT Series nodes Avere shipped late last year with SAS drives. The FXT 2700 will ship with SSDs and no hard disk drives, 64 GB of DRAM, 1 GB NVRAM and up to 512 GB flash capacity per appliance. FXT clusters scale to 25 nodes, which would hold up to 13 TB of flash capacity. The 2700 appliance also offers a choice between two 10 Gigabit Ethernet interfaces and 10 GigE connections. The Avere FXT 2700 became available this week with a starting list price of $82,500 per appliance.

Last October, Avere launched FXT 2300 and FXT 2500 appliance nodes with 64 GB of read-only DRAM and 1 GB of battery-backed NVRAM. The FXT 2300, list priced at $52,000, contains 1.2 TB of 15,000 rpm SAS drives. The FXT 2500, at $72,000, contains 3.5 TB of SAS disk. The nodes can scale out under a global namespace, and the clustered NAS system can be attached to third-party NFS NAS systems for archival and backup storage.

While the FXT 2300 and FXT 2500 hold mixed tiers of RAM-based solid-state storage and 15,000 rpm SAS drives, director of product marketing Jeff Tabor said the FXT 2700 will have to be deployed separately, at least until another release later this year.

"Data center customers have 15,000 rpm drives already," Tabor said. "What they want is SSD and 10-Gig [Ethernet] interfaces."

Avere positions the device for use cases where working sets are large enough to exceed practical RAM capacities. "You can get 10 times the performance when you use flash compared with hard disk drives," Tabor said.

One early adopter said the big appeal of Avere is the ability to repurpose older bulk NAS storage behind its clustered NAS. Bryan Nielsen, technology systems architect at the Salk Institute's Computational Neurobiology Laboratory, said at $82,500 (the list price per FXT 2700 appliance), solid-state storage doesn't fit his budget. "We gain enough benefit from the faster drives in their other appliances," he said.

Nielsen said he has tested Avere's FXT 2300 appliance to boost the performance of legacy products from three different storage vendors. As an early adopter, Nielsen was given units to test and he plans to deploy the Avere appliances in production but is waiting for them to be delivered. "It's not a replacement for our current mass storage," he said. "It enhances other mass storage systems and gives us another option to scale performance separate from scaling capacity."

The Salk Institute is Avere's only public reference customer. However, Avere's Tabor claims the vendor has other customers who have not given permission to use their names.

Terri McClure, a senior analyst at Milford, Mass.-based Enterprise Strategy Group, said she doesn't think having flash nodes deployed separately from the other automated tiered storage products will hurt Avere. "When EMC came out with FAST [automated tiering software], they started talking about only needing flash and SATA tiers," she said. "There's been some thinking in the market about that approach lately." However, she added, "it would be helpful when they can mix and match."

McClure said a challenge for Avere is to convince customers that it makes sense to manage another set of devices to improve performance. "They need to start publishing more customer stories and proof points that their [automated] tiering actually works," she said. "IT is change-resistant when it comes to managing information. That's the challenge for Avere."
Dig Deeper on SSD utility and application tools
PRO+
Content
Find more PRO+ content and other member only offers, here.