News
Stay informed about the latest enterprise technology news and product updates.
SSD 2012: All-flash arrays, MLC, PCIe cards take center stage
SSD 2012 news stories frequently featured all-flash arrays, with multi-level cell (MLC) and server-side flash also playing big roles.
Looking for something else?
Enterprise solid-state storage spilled into many areas in 2012, with all-flash solid-state arrays, multi-level cell and server-side flash taking the technology into the enterprise.

Download this free guide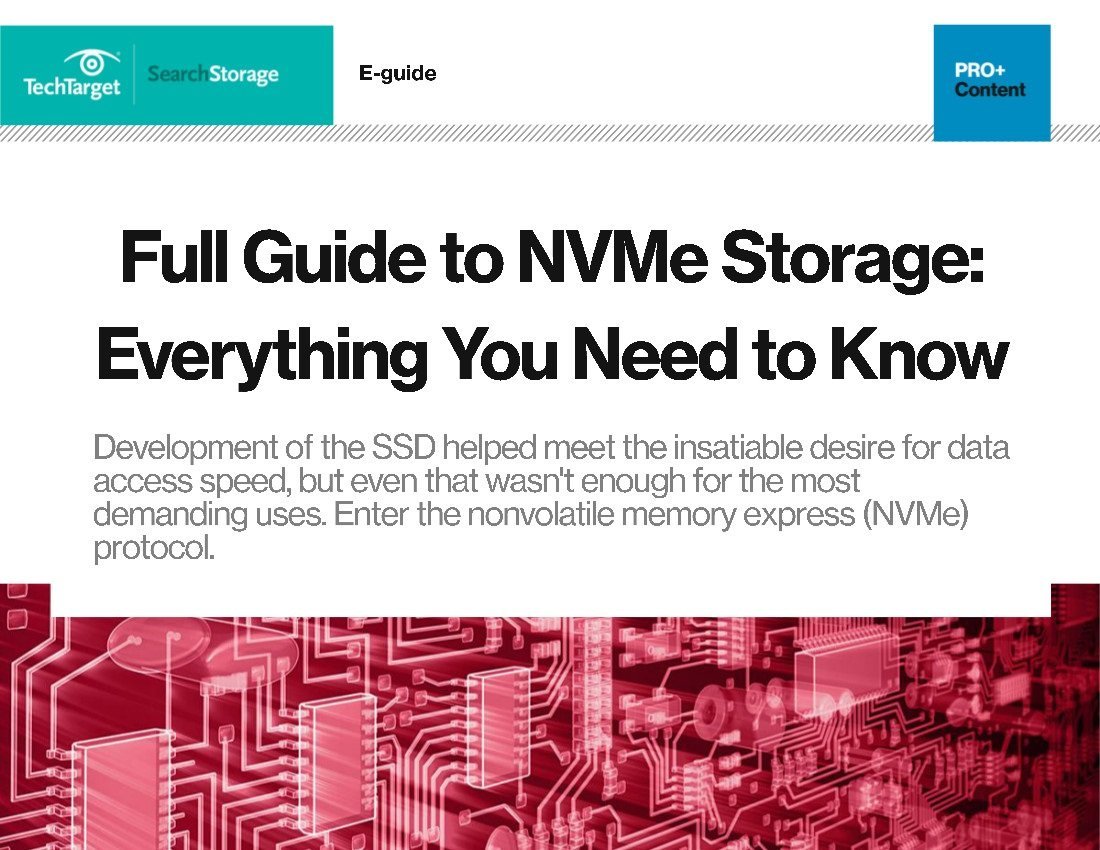 NVMe: The networked future for insatiable data access speeds
NVMe's no longer just a protocol for fast flash drive connections to a PC via the PCI Express bus. Discover the future of NVMe usage here, including exclusive details on how the M.2 SSD form factor is approaching server-ready capacity and speed.
By submitting your personal information, you agree that TechTarget and its partners may contact you regarding relevant content, products and special offers.
You also agree that your personal information may be transferred and processed in the United States, and that you have read and agree to the Terms of Use and the Privacy Policy.
Here are the top SSD 2012 stories and trends:
MLC flash elbows into the enterprise
The trend of multi-level cell (MLC) and enterprise MLC (eMLC) in data center storage began in 2011, but became a full-blown movement in 2012. Solid-state drive (SSD) vendors turned to MLC and eMLC to try and overcome the biggest obstacle facing enterprise flash adoption -- price.
More expensive single-level cell (SLC) flash still has its place in use cases where long-term reliability is a must-have, but eMLC and consumer-grade MLC flash are now the standard flash components in all-flash arrays and in hybrids.
Related stories on MLC flash technology:
Storage vendors embrace server-based flash
EMC added its VFCache server-based flash caching product this year, and NetApp is following with Flash Accel software. These products piggy-back the success of PCIe-based flash vendor Fusion-io, which scored a reseller deal with NetApp in 2012. EMC chose Micron and LSI as its VFCache partners.
With server-side flash competition heating up, the PCIe solid-state card vendors and software startups are adding software management and caching applications. And host bus adapter (HBA) vendor QLogic got into the flash game with its Mt. Rainier card.
Related stories on server-based flash storage and management:
Brute performance no longer enough, enterprise features also needed
As the solid-state storage market matures, vendors are differentiating their products to gain footholds in various vertical markets and use cases. SolidFire targets service providers with guaranteed Quality of Service (QoS) software in multi-tenant environments, while Nexgen Storage Inc. hybrid arrays use QoS to target the midmarket.
All-flash vendors whose products are past the first generation are adding typical enterprise features such as advanced data protection, and high availability. Snapshots, replication and thin provisioning are among the features enterprise storage administrators will demand to implement solid-state arrays in the data center.
Related news on adding enterprise features to flash arrays:
VDI drives flash adoption
Because it is IOPS- and read-intensive, virtual desktop infrastructure (VDI) is an early killer app for solid-state storage. Companies are turning to hybrid and all-flash systems to rescue VDI projects that had stalled because of poor storage performance, and vendors are seeing a spike in adoption.
More stories on VDI driving flash adoption:
Dig Deeper on SSD array implementations
PRO+
Content
Find more PRO+ content and other member only offers, here.