News
Stay informed about the latest enterprise technology news and product updates.
A&P installs IBM FlashSystem to replace aging disk arrays
IBM FlashSystem all-flash arrays help supermarket chain with primary storage while boosting performance and reducing data center footprint.
Looking for something else?
TECHNOLOGIES
Unlike companies that have dabbled with all-flash arrays to accelerate a single I/O-needy application, The Great Atlantic & Pacific Tea Company purchased the IBM FlashSystem V840 in mid-2014 for general purpose primary storage to supplant its aging IBM DS4500 disk-based arrays.

Download this free guide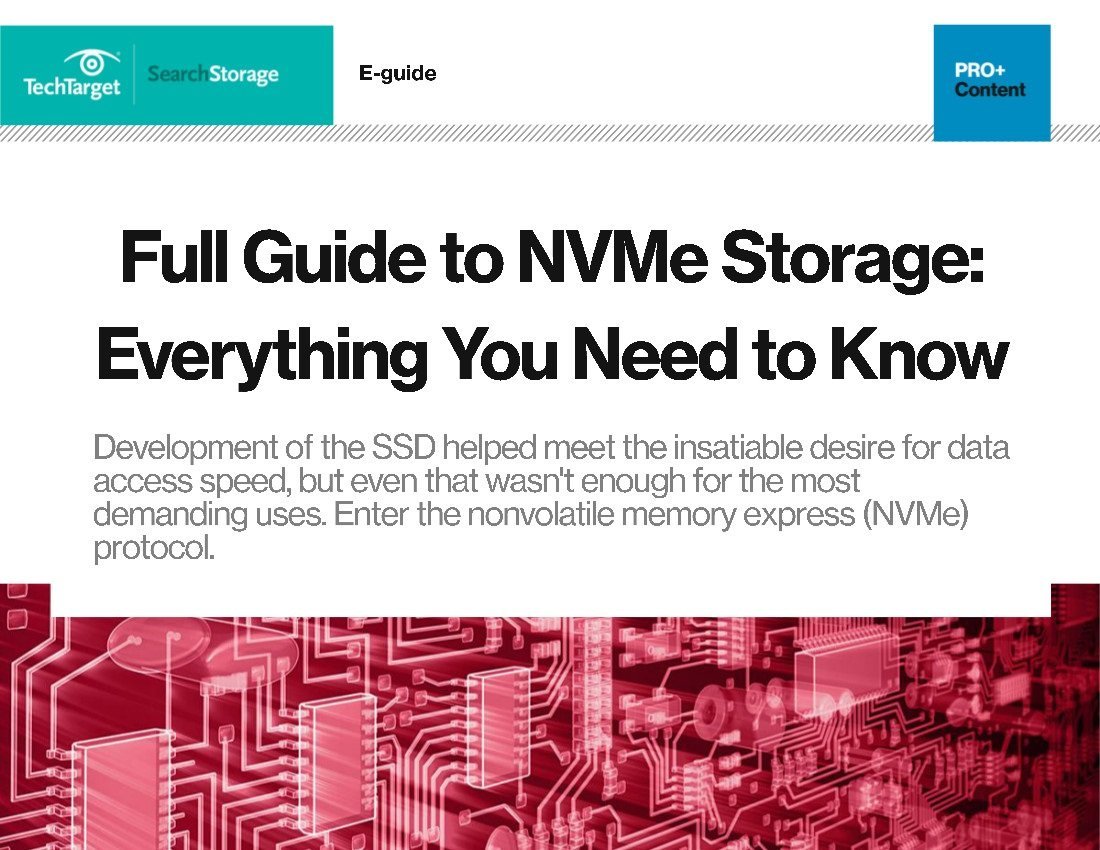 NVMe: The networked future for insatiable data access speeds
NVMe's no longer just a protocol for fast flash drive connections to a PC via the PCI Express bus. Discover the future of NVMe usage here, including exclusive details on how the M.2 SSD form factor is approaching server-ready capacity and speed.
By submitting your personal information, you agree that TechTarget and its partners may contact you regarding relevant content, products and special offers.
You also agree that your personal information may be transferred and processed in the United States, and that you have read and agree to the Terms of Use and the Privacy Policy.
The new crop of feature-rich all-flash arrays appealed to the Montvale, New Jersey-based supermarket chain -- better known as A&P -- for performance and to reduce its data center footprint, said Richard Angelillo, the company's vice president of information services. "It's not an exercise of just chasing some leading technology," Angelillo said. "We needed to replace the storage we had because of end-of-life circumstances."
FlashSystem V840 provided performance boost
A&P sometimes purchased extra capacity with its slower disk-based arrays to get the necessary throughput for certain applications, according to Steven Gath, senior director of performance and data management at A&P.
But the IT staff figured the IBM FlashSystem V840 could provide a performance boost without having to alter the applications. Plus, the new V840 offered the potential to handle the company's entire production environment from a capacity standpoint. "A lot of that depends on what that compression ratio is and how it stays," Gath said.
A&P's FlashSystem V840 has 40 TB of usable capacity. A&P also licensed IBM's optional compression technology to increase the potential effective capacity to about 200 TB, depending on the data set. "The fact that you can do the compression is part of how you get the value out of 40 TB raw," said Angelillo.
Oracle database performance issue led to FlashSystem V840
The IT staff began kicking the tires with its new all-flash array in July to gain a better understanding of the configuration, and tune the environment for full advantage. Gath said the team decided to "jump in feet first" this month and deploy the V840 in production when an issue cropped up with an Oracle database. They recovered the database on the new array rather than the old IBM DS4500s.
Gath said the 75% compression rate with the 7 TB Oracle database exceeded expectations. He expects to see significant performance improvement when the company upgrades from 4 Gbps Fibre Channel (FC), host bus adapters (HBAs) to 8 Gbps cards.
"That seems to be a bottleneck right now," Gath said of the 4-gig FC.
A&P's testing with a development system that had 4 Gbps adapters and slower CPU produced no significant performance boost. Similar tests with a more powerful server equipped with faster FC cards showed a significant performance increase. So the company bought faster 8 Gbps FC HBAs for some of the production servers that it plans to use with the all-flash array.
"That's the next hurdle. We can get the storage faster, but it's going to eventually require some rework of our SAN environment," Gath said. "The whole SAN network needs to be upgraded to handle all that throughput."
Gath also noted that the performance boost for a particular application can vary by the type of query and the manner in which the data is accessed. I/O-bound queries that read a lot of data from disks see a significant performance benefit, but queries that pull data from memory, where CPU is the bottleneck, see no change.
Second database to be added to FlashSystem array
Gath said A&P plans to implement a second database on the FlashSystem V840 in the coming weeks, and follow up with a few more applications over the next couple of months. The company's intention has always been to use the all-flash array with more than just one or two databases, such as the data warehouse, reporting, merchandising and pricing systems.
A&P purchased the option to add a traditional storage array underneath the FlashSystem V840 to enable tiered storage, so it can keep the archival data on spinning disk and the active data on flash. The IT staff hasn't determined which storage array that will be, Gath said. "We typically do a lot of musical chairs with our storage. As new storage comes in, you shuffle stuff around."
Gath said the FlashSystem V840 will probably replace four of A&P's eight- to 10-year-old DS4500s, but not the company's newer IBM DS 4800s. The company may shift some data from the DS4800s to flash, but it will likely repurpose those newer disk-based arrays for test and development or backups, he said.
Flash drives wear out over time, but endurance wasn't a major concern for A&P. Gath said the company replaces 10 to 12 drives per week with its disk-based arrays and hopes the flash drives will fare better. The FlashSystem V840 uses enterprise multi-level cell (eMLC) drives that typically provide about 30,000 writes.
Gath said one selling point for the IBM system was that the flash drives are hot-swappable and can be replaced without taking the unit out of the rack. He said some arrays require the user to shut down the system and pull the unit from the rack to get to the storage modules.
"The 840 has enough redundancy built into it and the capability of managing that to the point where if there is a flash module that is degrading, it takes it out of service before it gets there and you replace it at that point," he said. "That's part of the maintenance that we have. Obviously, once we've passed our initial maintenance period, we have to look and see what that looks like going forward."
EMC, Violin Memory among options not chosen
A&P considered all-flash arrays from EMC and Violin Memory in addition to IBM. But, Angelillo said the company selected the FlashSystem V840 because of IBM's stability and continuing investment in flash, and A&P's long-term relationship with the vendor. He views the IBM FlashSystem V840 as a long-term investment and expects the company to use the system for 10 years, "if not more."
"Virtually every technology investment we make in the grocery business is long term," Angelillo said. "We squeeze every ounce out of it before we replace it."
Garth said A&P's future direction will likely be solid state for primary storage, regardless of what vendor it uses down the road.
"We did a lot of research as far as where the industry is going with storage. We see it as a tipping point, where spinning disk is getting to the point where it's not going to be around," he said. "You see a lot of solid state in PCs and laptops, and now you're starting to see it in more enterprise applications. We get a similar story when we talk to the different storage vendors."
Dig Deeper on SSD array implementations
PRO+
Content
Find more PRO+ content and other member only offers, here.