ludodesign - Fotolia
News
Stay informed about the latest enterprise technology news and product updates.
X-IO ISE hybrid arrays turn flashier
The third generation of X-IO ISE self-healing nodes include more flash, VMware integration and storage capabilities such as thin provisioning and quality of service.
Looking for something else?
TECHNOLOGIES

PRODUCTS
X-IO Technologies today boosted its ISE self-contained storage nodes with increased solid-state drive (SSD) capacity and a firmware upgrade. That firmware upgrade includes quality of service, thin provisioning and greater VMware integration.

Download this free guide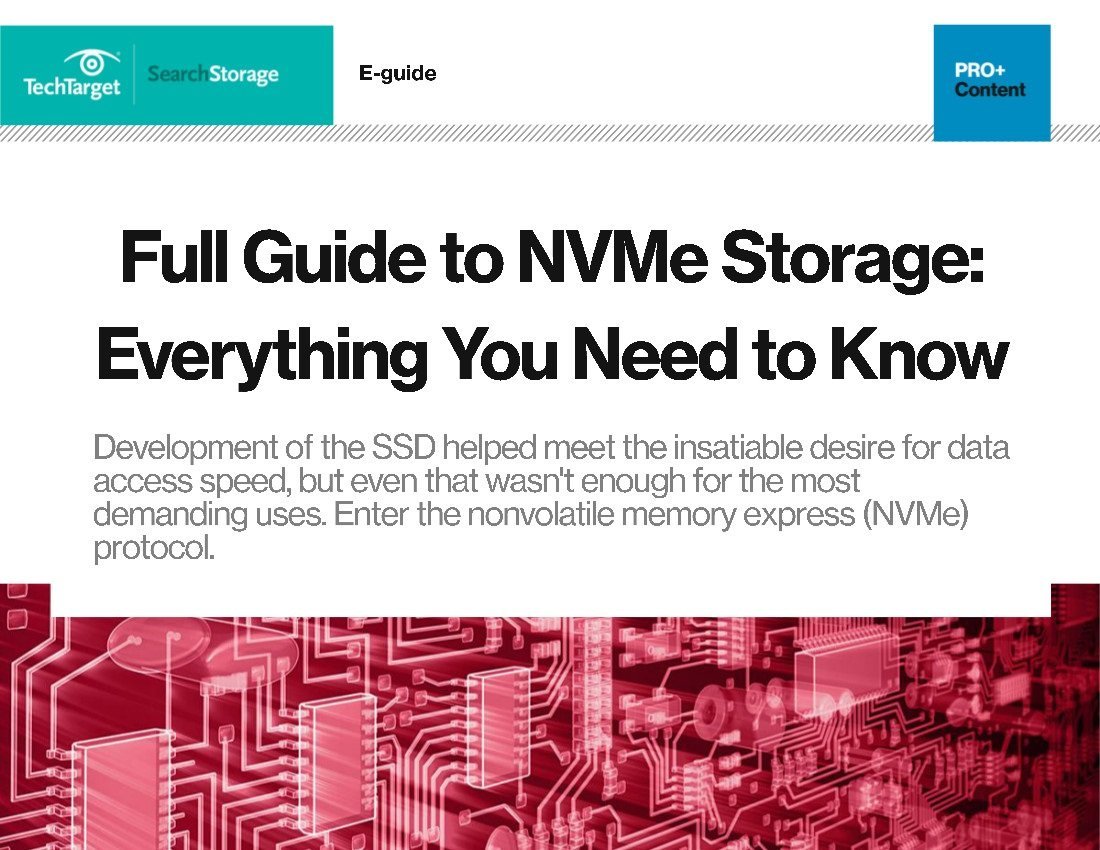 NVMe: The networked future for insatiable data access speeds
NVMe's no longer just a protocol for fast flash drive connections to a PC via the PCI Express bus. Discover the future of NVMe usage here, including exclusive details on how the M.2 SSD form factor is approaching server-ready capacity and speed.
By submitting your personal information, you agree that TechTarget and its partners may contact you regarding relevant content, products and special offers.
You also agree that your personal information may be transferred and processed in the United States, and that you have read and agree to the Terms of Use and the Privacy Policy.
The ISE G3 -- third generation -- also includes iSCSI support to go with its previous Fibre Channel support. There are 20 systems that use the new firmware, including new ISE 780i (iSCSI) and ISE 780 models that can use all-flash drives, all-hard disk drives, or serve as hybrids.
X-IO first launched itsIntelligent Storage Element (ISE) storage nodes in 2008 with technology the vendor acquired from Seagate Technology. The second-generation ISE arrays added solid-state drives in hybrid configurations. The latest systems add more flash and intelligence in placing data on SSD and hard-disk drive tiers.
The ISE 780i and 780 are the highest capacity systems in the platform, and allow for four times as much SSD capacity as the ISE 740 systems. The 780 includes 30 drives, and up to 10 can be 800 GB MLC SSDs for a total of 6.4 TB of usable flash capacity. The 740 systems hold 200 GB SSDs.
The 780 systems include up to 28.8 TB of hard disk storage. Pricing for the ISE 780 G3 starts at $199,000.
X-IO added what it calls Media Affinity to its Continuous Adaptive Data Placement (CADP). CADP constantly samples data for hot spots to determine what data to move to flash. The new Media Affinity feature lets customers lock certain data into SSD or HDD volumes, and use CADP for everything else.
"We call this an all-flash array with some disk added," said Gavin McLaughlin, X-IO vice president of worldwide marketing. "Historically, our hybrid strategy has been to throw data at the box and our algorithms will work out the best place to put data. The 780 includes a large amount of flash with the ability to lock things into flash."
X-IO gives the ISE 780 a five-year warranty with the ISE 780. McLaughlin said that would not have been possible with so much flash in previous versions, but the wear leveling of flash has improved while the price has come down.
The ISE quality of services throttles the maximum IOPS that can run on a volume.
The enhanced VMware integration is part of the ISE Manager Suite. Customers can manage virtual machines for VMware vRealize Operations, VMware vSphere API for Storage Awareness (VASA), and vSphere Web Client through ISE Manager.
ISE also supports Microsoft Hyper-V and Xen hypervisors.
Randy Kerns, senior strategist for the Evaluator Group consulting firm, said the upgrades don't fundamentally change X-IO's lineup but "it's a new generation. Everything gets better and faster every time you do it. They have new processors, new flash technology and more of it, and new features. "
Kerns called ISE a good fit for organizations that would like to build private clouds using Google-type storage on commodity hardware, but can't afford to hire IT staff to manage those "roll-your-own" systems.
"A lot of companies want to build their own private or public clouds and don't want to buy a complete storage system from a name vendor," he said. "Typically, they look at buying roll-your-own type of things, but you have to hire your own storage engineers to troubleshoot. X-IO fits somewhere in between. They put a lot of management into the system."
H&M Bay, a Federalsburg, Md.-based Freight Company, last year switched from an EMC VNXe to two ISE 730 hybrid systems as the storage for its Microsoft SQL Server database that monitors customer orders. H&M Bay IT director John Walker said he liked X-IO's five-year warranty, and was a fan of the way CADP handled data on flash even before the improvements.
"I'm not a hardware expert," Walker said. "They told me I would get a performance increase as the SAN learned about flash, and I did. I wasn't real enthusiastic at first, because I'm a guy who likes control. The ISE algorithms determine what should be promoted to flash. But when we implemented it, it did get faster as it learned our workload."
Next Steps
Analytics firm banks storage on X-IO ISE arrays
Health insurance firm gets affordable VDI care from X-IO ISE
Dig Deeper on SSD array implementations
PRO+
Content
Find more PRO+ content and other member only offers, here.